Savoury crème brûlée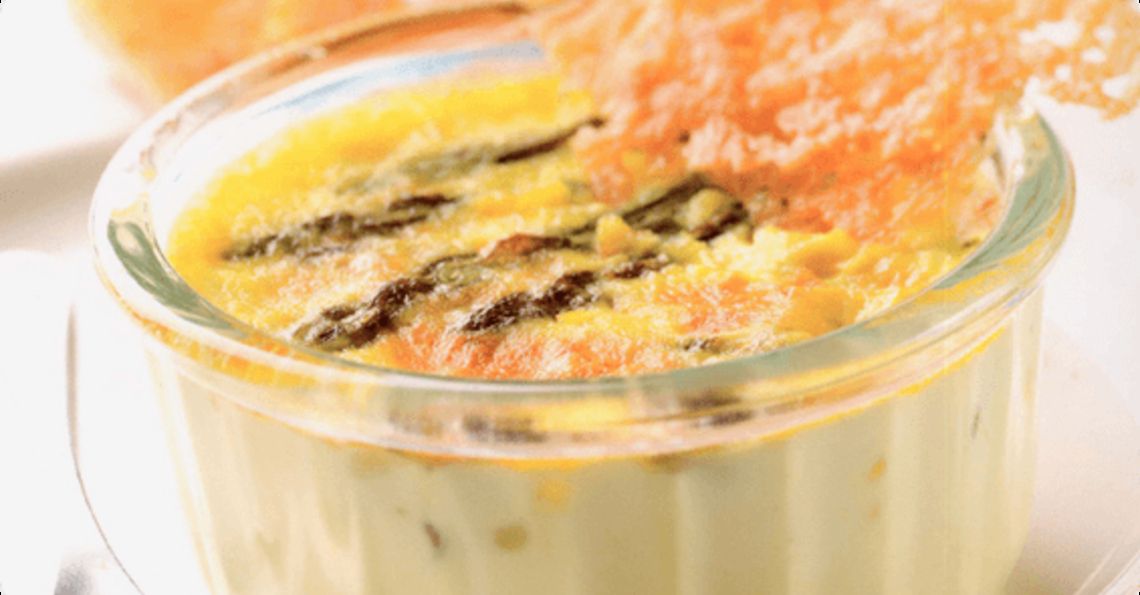 Serves: 2
Prep: 5 mins
Cook: 35 mins
This savoury crème brûlée makes an elegant brunch dish or an impressive starter for dinner party entertaining.
Ingredients
100ml/3.5floz milk
150ml/1/4pt double cream
1 large British Lion eggs and 2 large British Lion egg yolks
50g/2oz asparagus tips, cut into 5cm/2in lengths
15g/1/2oz freshly grated Parmesan cheese
Method
Preheat the oven to 170C/Fan 150F/Gas Mark 3. Heat the milk and cream together in a small pan until almost boiling. Beat the egg and egg yolks together with seasoning. Pour the hot milk on to the eggs and mix well.
Divide the asparagus between four 175ml/6floz ramekin dishes then pour over the egg mixture. Stand the dishes in a roasting tin and pour boiling water from the kettle to come half way up the outside of the dishes. Bake for 25-30mins or until just set.
Meanwhile, line a baking sheet with non-stick baking paper and sprinkle the cheese into four 6/7cm, 3/4in rounds. Bake for 6-8mins until golden brown – the cheese will melt and spread to make lacy wafers. Leave to cool slightly.
To serve, remove the brulees from the oven and cool for 5 mins. Serve topped with the parmesan crisps with toast fingers.
Click on the stars to rate this recipe: