Seared tuna steak with three-bean salad and a soft boiled egg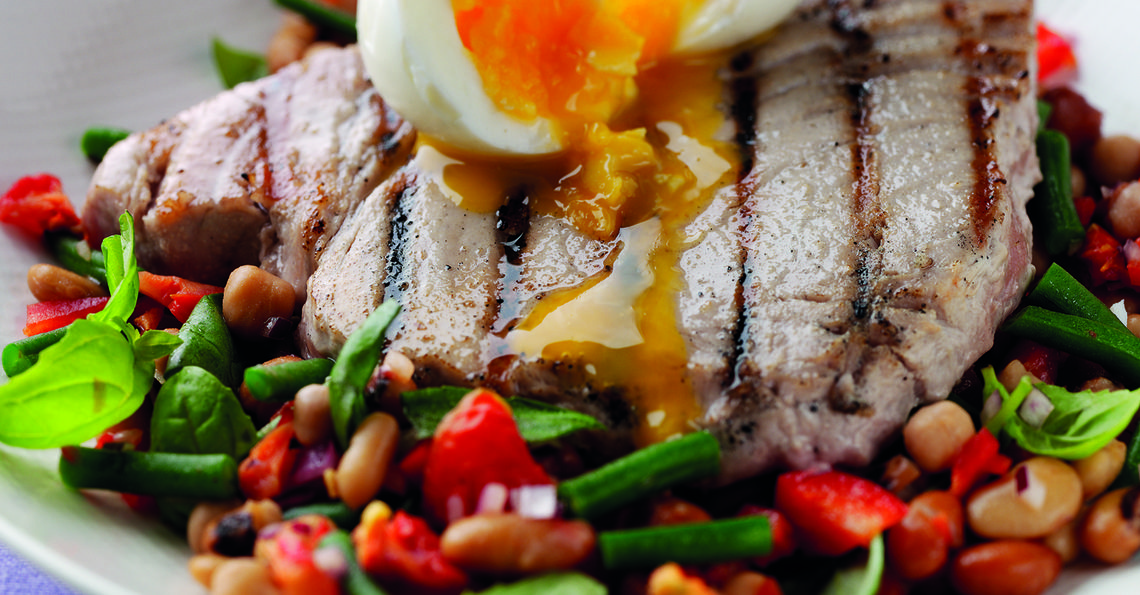 Serves: 2
Prep: 15 mins
Cook: 10 mins
A healthy and tasty egg salad.
Ingredients
2 British Lion eggs
2 tuna steaks (around 125g each)
1 tsp olive oil
410g mixed beans in water, drained or vacuum packed pre-cooked mixed beans
75g trimmed green beans, cut into 1 inch pieces
1 red onion, finely chopped
50g fresh cherry tomatoes, chopped
1 red pepper, finely diced
1 large red chilli, finely chopped (seeds in if you like a kick!)
35g fresh basil leaves
1/2 lemon
Crusty bread to serve (optional)
For the dressing:
Juice of 1/2 lemon
11/2 tsp Dijon mustard
11/2 tbsp extra virgin olive oil
Method
Bring a pan of water to the boil. Add the eggs carefully and cook for exactly 4 minutes 30 seconds for a very runny egg. Add the green beans to the water for the last minute of cooking. Remove the pan from the stove and cool down with cold running water from the tap.
Now prepare the other salad ingredients: mix the beans, onion, tomatoes, pepper, chilli and the cooked and cooled green beans.
Make the dressing by combining the mustard with the lemon juice before slowly adding the olive oil to thicken the dressing. Pour half of the dressing over the bean salad and save half for later. Season the salad with salt and pepper.
Place a non-stick frying pan or griddle pan on a high heat. Rub the tuna steaks with a little olive oil on both sides and season with salt and pepper. Place them in the pan when it is smoking hot. For rare steaks, cook them each for around 2 minutes per side. If you prefer your tuna well done, cook each side for 4-5 mins. Just before the tuna is cooked, squeeze over a generous amount of lemon juice and remove from the heat.
Carefully peel the eggs. Tear the basil leaves into the salad at the last moment and mix well.
Scoop the salad onto each plate and top with the tuna steak. Sit the egg tall and proud on top of the tuna. Cut open just before you serve so the yolk oozes out. Finish with the remaining dressing and serve with crusty bread if liked to soak up that lovely runny yolk!
Sophie says: This is a self-saucing salad and a real staple in my home. I can't help but smile every time I see that creamy, rich egg yolk ooze over the salad, combining with the dressing and the beans to finish off the dish perfectly.  It's the perfect midweek supper that we can all feel good about eating. It's also great without the tuna if you can't get to your fishmongers after a long day in the office!
Click on the stars to rate this recipe: