Spaghetti with egg and broccoli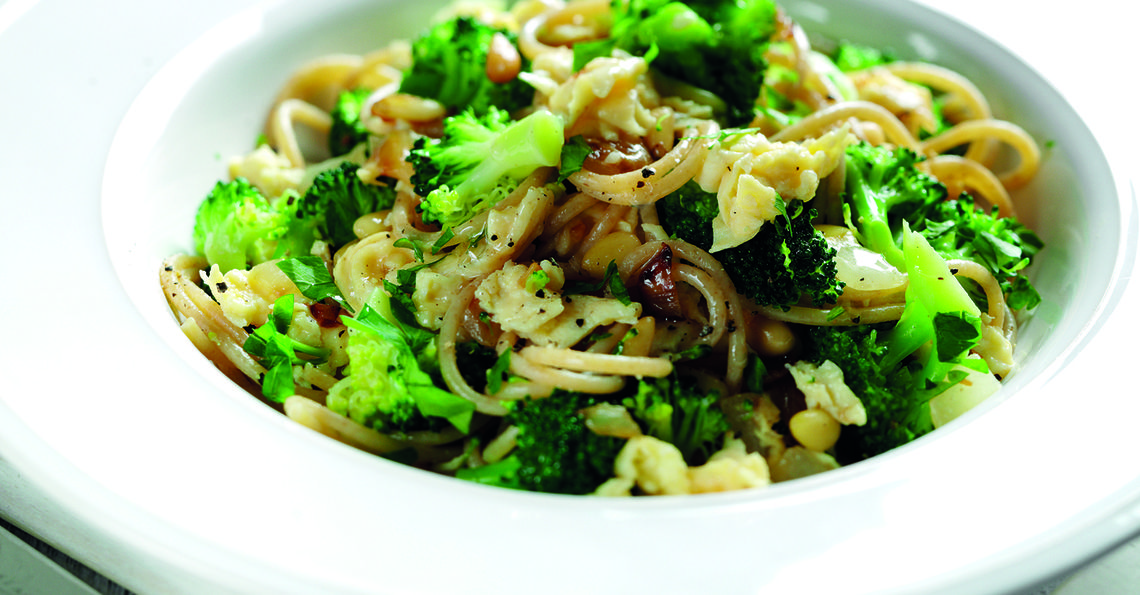 Serves: 2
Prep: 5 mins
Cook: 15 mins
Ingredients
275g wholewheat spaghetti
1 tbsp extra virgin olive oil
1 onion, chopped
1 clove garlic, crushed
15g pine nuts
200g small broccoli florets
3 large British Lion eggs
2 tbsp fresh flat leaf parsley chopped
Method
 Cook the spaghetti in a large pan of boiling water for 7 mins.
Heat the oil in a medium non-stick frying pan, add the onion and cook for 3 mins or until soft. Add the garlic and pine nuts and cook for a further minute or so until the onion and nuts are golden.
 Add the broccoli florets to the spaghetti pan, stir and cook for a further 3 mins. Drain in a colander and keep warm.
Beat the eggs with the seasoning and add to the frying pan. Cook over a medium heat for a couple of minutes until the eggs are set and scrambled the way you like.
Add the spaghetti to the frying pan along with the parsley and toss together to mix. Serve on warm plates with a little parmesan if liked.
Nutritional information, per serving:

| Calories | Carbs | Protein | Fat | Saturates | Salt |
| --- | --- | --- | --- | --- | --- |
| 726 | 41.6g | 24.1g | 44.2g | 12.0g | 2.1g |
Click on the stars to rate this recipe: