Spinach & egg roulade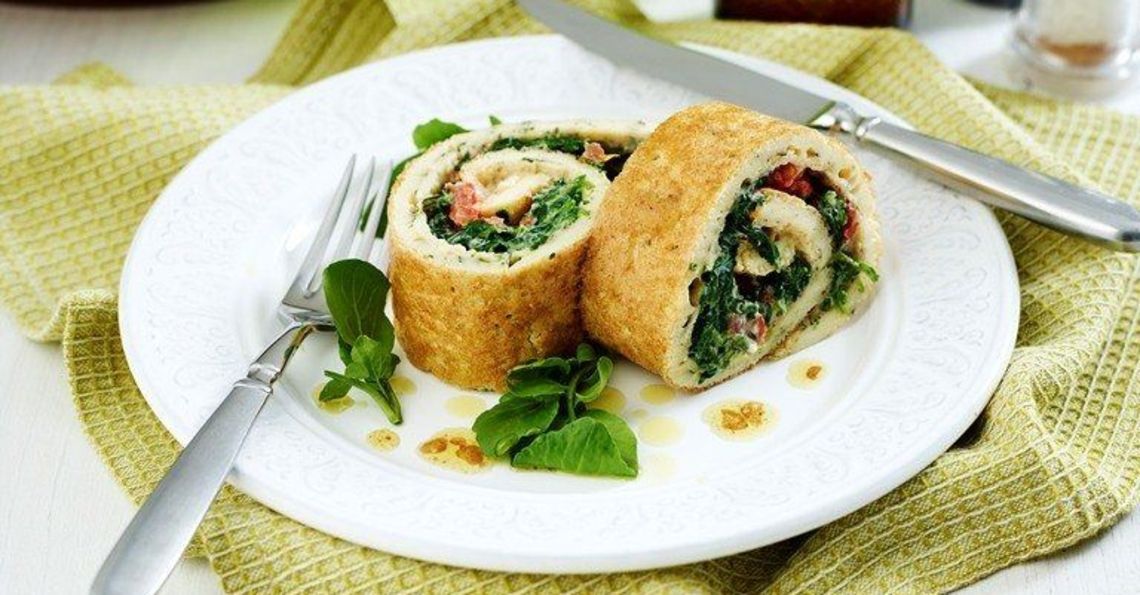 Serves: 3
Prep: 15 mins
Cook: 7 mins
Ingredients
200g baby spinach
100g extra light cream cheese
A pinch of nutmeg
6 large British Lion eggs
2 tbsp dill
75g sunblush tomatoes, chopped
Olive oil
Salt and pepper
To serve – watercress salad and balsamic vinaigrette
Method
Heat a large flying pan on a high heat. Add the spinach and cook until all the moisture has evaporated, then tip out into a sieve.
Once cool, squeeze out any excess moisture and roughly chop. Place in a bowl and mix in the cream cheese, nutmeg, salt and pepper.
Mix together four of the eggs and dill. Separate the other two, adding egg yolks to the egg and dill mix and whisking the two whites until they form soft peaks. Then fold into the egg mixture. Season.
Wipe the frying pan out then add a little oil. Pour in the eggs, swirling the pan so that the base is completely covered. Reduce the heat and cook until the top of the omelette is completely set.
Once cooked carefully slide the omelette out onto a board. Once cooled, cut a thin strip from the left and right hand side to that you square the edges slightly. Keep the off cuts.
Spread the spinach mixture over the omelette then scatter with sunblush tomatoes. Place the off cuts of omelette along the bottom (nearest you) as this will help act as a guide line to roll the omelette up, then simply roll it into a sausage/roulade.
Use a sharp knife to cut pieces from the roulade then serve with watercress salad and a little balsamic vinaigrette.
Cookware courtesy of www.pyrexuk.com
Nutritional information, per serving:

| Calories | Carbs | Protein | Fat | Saturates | Salt |
| --- | --- | --- | --- | --- | --- |
| 259 | 4.0g | 14.3g | 20.6g | 4.6g | 1.3g |
Click on the stars to rate this recipe: