Egg-topped smokey aubergine salad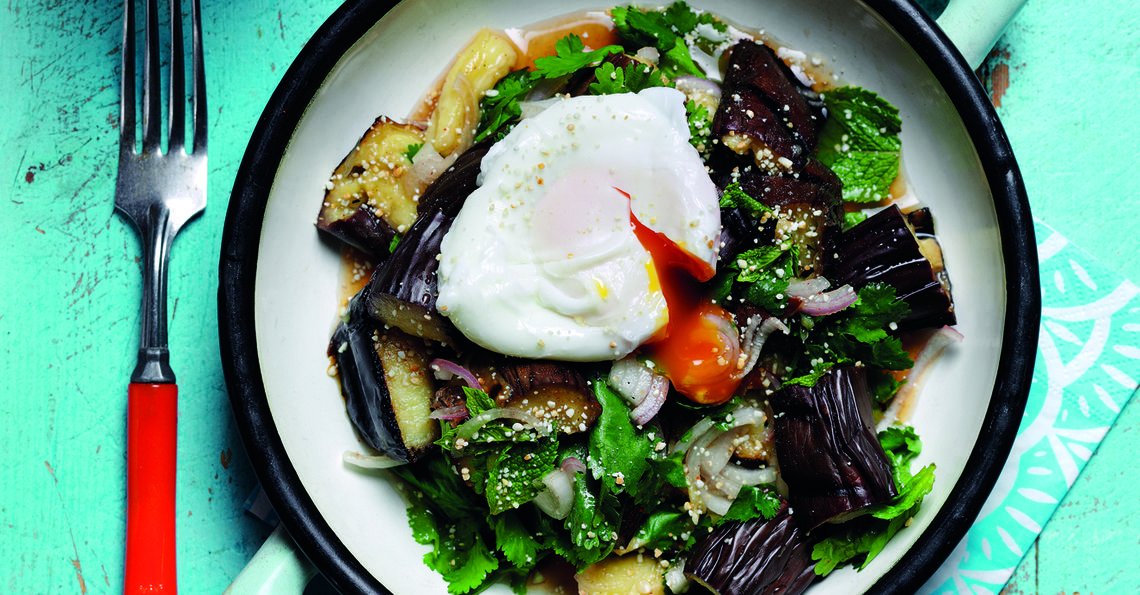 Serves: 2
Prep: 10 mins
Cook: 25 mins
When cooked over open fire, aubergine has an amazing way of transforming its flavour and texture into a smoky, soft bombshell of taste. This salad uses the runny egg to contribute to the dressing, it's a perfect accompaniment to a barbecue and also delicious served with steamed jasmine rice. For this salad, Thai purple aubergine is used - this is thinner and easier to grill evenly in a short time. However, the more common large aubergine can also be used but it may need to be cooked a little longer on the fire.
Ingredients
For the salad...
2 Thai purple aubergines (these can be found in any good Asian supermarket, however the larger, more popular aubergine can be used instead)
2 medium British Lion eggs
A handful of mint, picked and torn in half with fingers
A handful of coriander, picked and washed.
100g Thai shallots, peeled and sliced thinly (banana shallots chopped thinly can be used instead)
20g Jasmine Rice
For the dressing...
4 limes, juiced
4 tbsp fish sauce (soy sauce if vegetarian)
4 tbsp tamarind water
2 tbsp caster sugar
1 mandarin, juiced (clementine will work too)
½ tbsp chilli powder (a little less if you don't like heat)
Method
Make the dressing by mixing together all the ingredients.
Light up the BBQ and allow the coals to turn white, or heat up a griddle pan on a high heat on the hob.
Place the aubergines directly on the coals or on the griddle pan and allow to char, turning them over occasionally until they are soft to the touch. Then remove from the heat and leave to cool.
If the skins are really charred peel the aubergines but if they are just caramelised leave them on.
Cut the cooked aubergine into big chunks and place in a bowl.
Fry the jasmine rice in a dry pan until golden. Then grind in a pestle and mortar or in a food processor until you have a fine powder.
Toss together the aubergine, herbs and shallots.
Bring a pan of salted water to a rolling simmer, then stir to create a whirlpool. Crack an egg into the middle and cook for four minutes or until the white is cooked and the yolk is still soft. Then remove from the pan with a slotted spoon.
Dress the salad with your dressing and place on a plate then top with your poached egg, a sprinkling of toasted rice and a pinch of salt on the egg yolk.
Click on the stars to rate this recipe: