Squash, kale & chorizo tortilla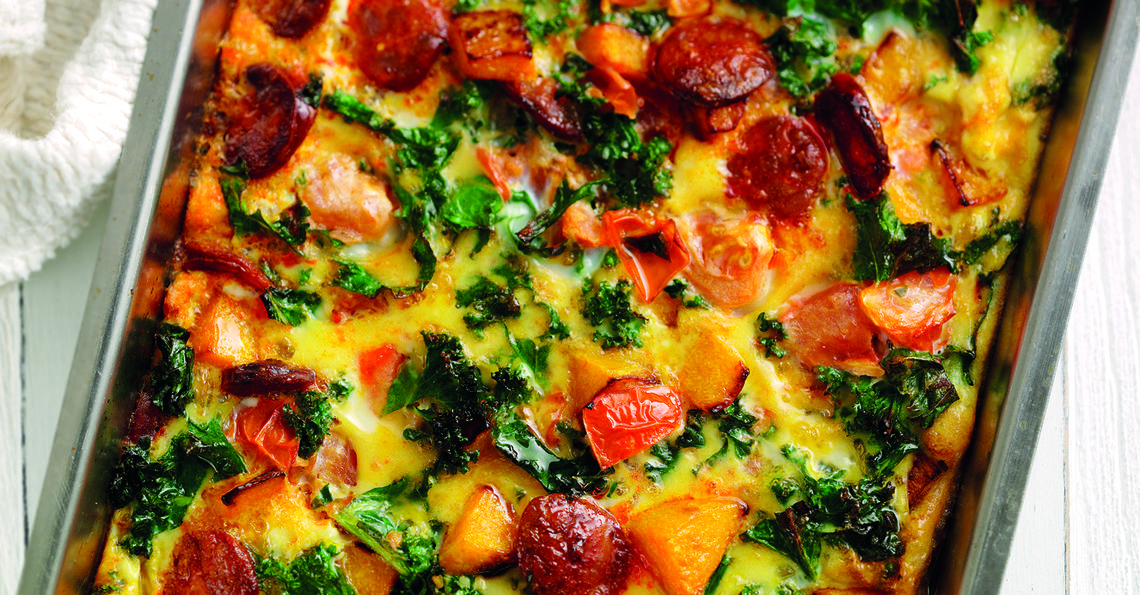 Serves: 4
Prep: 5 mins
Cook: 15 mins
Ingredients
6 British Lion eggs, whisked up in a large bowl
2 tbsps olive oil or coconut oil
260g cooking chorizo, sliced
2 plum tomatoes, diced into 1cm cubes
About ¼ of a butternut squash, diced into 1cm cubes
100g kale, roughly chopped
Method
Heat the oven to about 190C/170C fan. Find a rectangular baking tray or dish about 20cm square with sides at least 5cm deep. Put this dish in the oven to heat up whilst you get things cooking.
Fry the butternut squash in a non-stick pan using half the oil until it's almost cooked and golden brown – tip it into the bowl with the whisked eggs in. Leave the oil in the pan.
Fry the chorizo sausage until cooked and add to the egg mix – add the oil too because it will now be flavoured by the chorizo. Tip in the tomato and kale.
Remove the hot dish from the oven and tip in the remaining olive oil. Swill it around so that the whole dish is lightly oiled.
Give the egg mix a final stir and tip everything into the hot dish. Place back in the oven and bake until the eggs are cooked – about 12-18 minutes.
Nutritional information, per serving:

| Calories | Protein | Fat | Saturates | Salt |
| --- | --- | --- | --- | --- |
| 239 | 15.3g | 17.1g | 4.4g | 0.6g |
Click on the stars to rate this recipe: