Summer quiche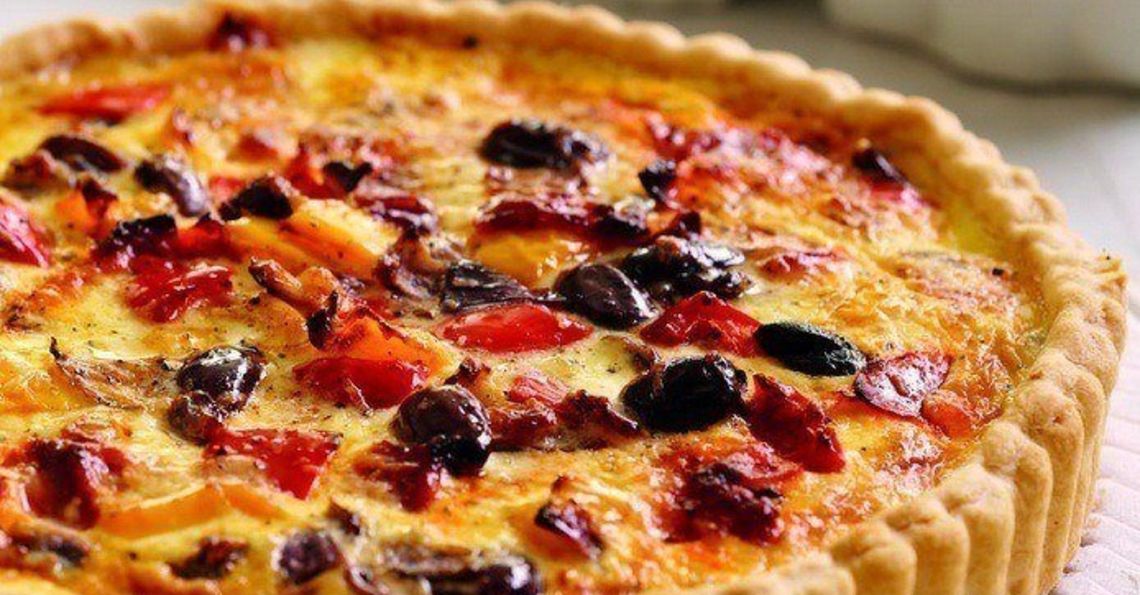 Serves: 8
Prep: 15 mins
Cook: 50 mins
A great-tasting picnic favourite, our summer quiche recipe is a fantastic dish to share with others on a sunny afternoon or served with salad an evening.
Ingredients
For the pastry:
225g plain flour
125g butter, cubed
Pinch of salt
For the filling:
1 red pepper, deseeded and roughly chopped
1 yellow pepper, deseeded and roughly chopped
1 red onion, roughly chopped
1 tbsp. olive oil
Salt and freshly ground black pepper
100g sliced chorizo sausage, roughly chopped (optional)
25g freshly grated parmesan cheese
50g pitted black olives, halved
200ml double cream
200ml whole milk
3 large British Lion Eggs
Method
1. Preheat the oven to 200°C/Fan 180C°/Gas Mark 6. Roast the vegetables: place the peppers, onion and olive oil in a roasting tin. Season well then toss together before roasting at the top of the oven for 15 minutes.
2. To make the pastry, sift the flour into a large bowl with a good pinch of salt. Add the butter to the flour, then rub it in using your fingertips until the mixture looks like fine crumbs.
3. Add 45-60ml cold water and use a knife to mix until the pastry mixture forms a ball. Alternatively make the pastry in a food processor; whizz the flour and butter together, then add the water and pulse until a ball forms.
4. Roll out the pastry on a lightly floured surface until it is the thickness of a pound coin, then use to line a 23cm/4cm deep fluted flan tin, pushing it well into the base and sides of the tin.
5. Use a fork to lightly prick the pastry, then line it with crumpled baking parchment and fill with baking beans. Place on a baking sheet and bake for 20 minutes, removing the paper and beans for the final 5 minutes.
6. In a large jug, beat the cream, milk and eggs together until smooth. Stir the chorizo into the vegetable then scatter over the pastry base along with the olives. Sprinkle over the cheese before pouring in the cream mixture.
7. Carefully put in the oven, lower the temperature to 180°C/Fan 160°C/Gas Mark 4 then bake for 25 minutes or until the filling is set and the top is golden. Cool for 10 minutes before removing from the tin. Serve warm or cold.
Click on the stars to rate this recipe: