Sweet potato, tuna & sweetcorn tortilla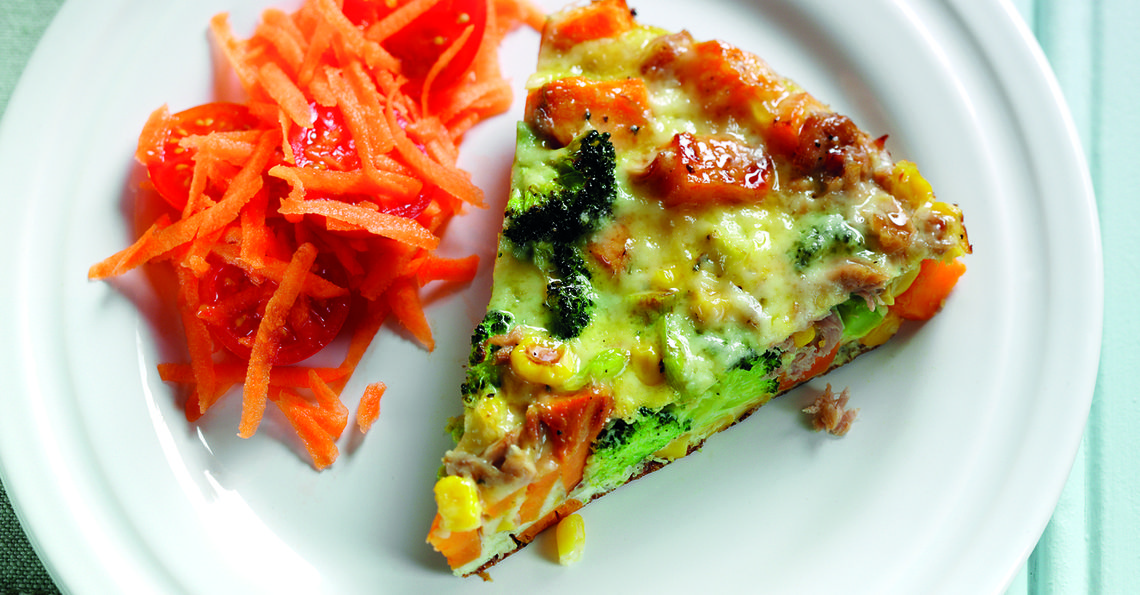 Serves: 4
Prep: 5 mins
Cook: 10 mins
Ingredients
1 sweet potato, peeled
1 tbsp olive oil
4 spring onions, trimmed and sliced
100g broccoli in small florets
1 (60g) can sweetcorn, drained
1 (120g) can no-drain tuna
75g Cheddar cheese, grated
6 large British Lion eggs
Salt and freshly ground black pepper
150ml natural yogurt
2 tsp mint sauce
Grated carrot and cherry tomatoes to serve
Method
Cut the potato into 2cm cubes, place in a micro-proof dish with a spoonful of water. Cover with clear film, pierce and microwave on HIGH for 4 mins until tender.
Heat the oil in a medium non-stick frying pan. Add the spring onions, broccoli and sweet potatoes and saute for 2 mins until soft. Stir in the corn and tuna.
Beat the eggs with seasoning. Pour over the vegetables and cook for 3 mins or until set. Sprinkle over the cheese and cook under a hot grill for 2 mins or until the top is set.
Mix the yogurt and mint together. Cut the tortilla into wedges and serve with a grated carrot and cherry tomato and a little yogurt sauce.
Nutritional information, per serving:

| Calories | Carbs | Protein | Fat | Saturates | Salt |
| --- | --- | --- | --- | --- | --- |
| 349 | 17.5g | 27.7g | 19.3g | 7.6g | 1.1g |
Click on the stars to rate this recipe: