Thyme pancakes filled with caramelised onion chutney and goats cheese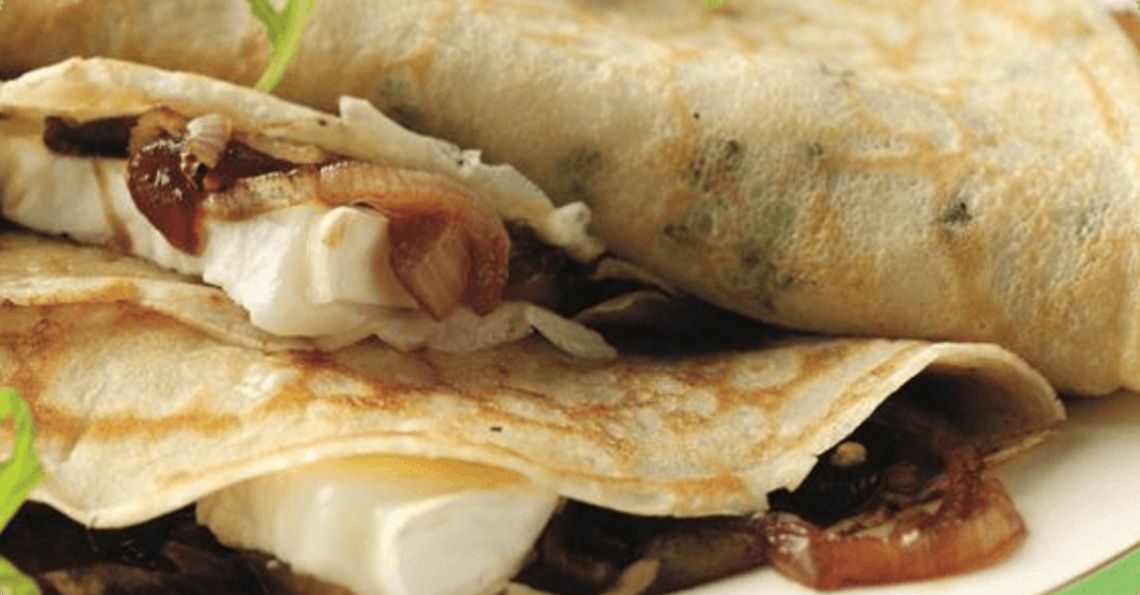 Serves: 4
Prep: 20 mins
Cook: 40 mins
A delicious recipe for Pancake Day or any other day of the year!
Ingredients
100g plain flour with a pinch of salt added
2 large British Lion eggs
200ml milk mixed with 4 tbsp water
1 tbsp fresh thyme leaves
2 tbsp butter, melted
For the onion chutney:
1 tbsp olive oil
1 red onion, sliced
1 red chilli, sliced
1 bay leaf
100g brown sugar
75ml balsamic vinegar
75ml red wine vinegar
1 goat's cheese log
rocket, to serve
Method
For the onion chutney: heat the oil in a large pan and add the onions and chilli. Cook gently over a low heat for about 20 minutes or until the onions are dark and sticky, add the bay leaf, sugar and the vinegars and simmer for 30 minutes or so, until the chutney is thick and dark.
For the pancakes: sift the flour and salt into a large mixing bowl. Make a well in the middle of the flour and add eggs with half the milk and water. Whisk until the mixture is lump free. Add the thyme and remaining milk and whisk again until smooth. Add the melted butter. Pour the batter into a jug. 
Heat a 20cm diameter non-stick frying pan until hot, drizzle a little oil over the centre and wipe it around with a piece of kitchen paper. Now pour a little of the batter into the pan and immediately tilt the pan to spread the batter thinly and evenly over the base. Cook for 2 minutes or until the top is set and the base golden. Turn the pancake over with a spatula or flip the pancakes. Repeat until all the batter is used.
Spread the onion chutney over the made pancakes and add the sliced goats cheese. Serve with salad.
Click on the stars to rate this recipe: