Toad in the hole batter mix, with onion gravy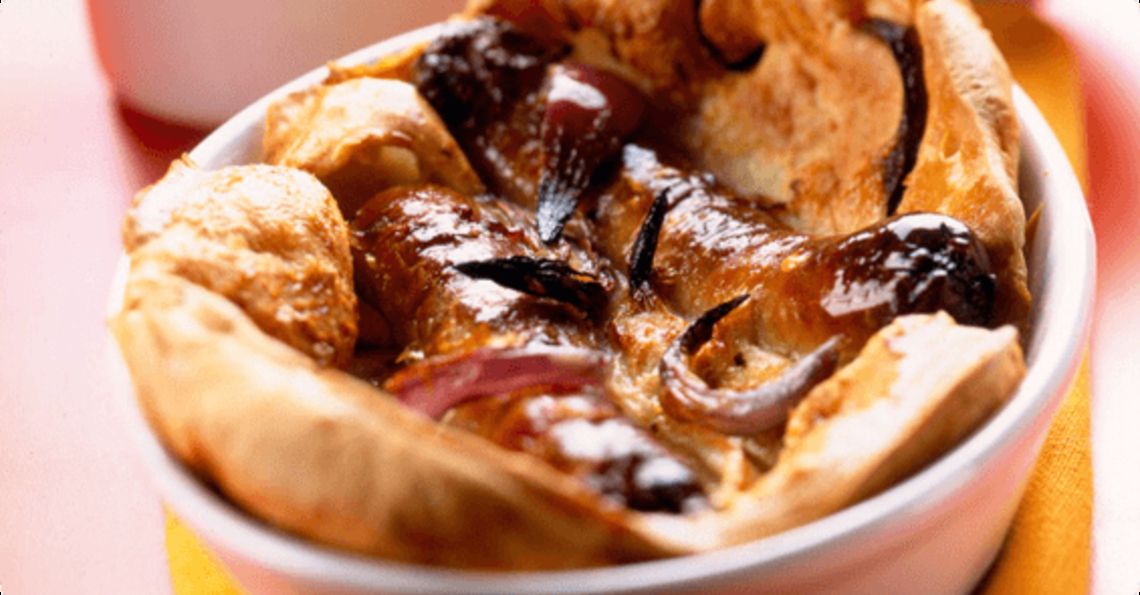 Serves: 4
Prep: 10 mins
Cook: 40 mins
A classic toad in the hole batter mix recipe which the whole family will love. We have lots more family recipes for you to try.
Ingredients
15ml/1tbsp vegetable oil
8 premium pork sausages
1 red onion, sliced
100g/4oz plain flour
pinch of salt
4 large British Lion eggs
200ml/7floz milk
For the onion gravy:
30ml/2tbsp vegetable oil
2 onions, sliced
pinch of sugar
20ml/4tsp plain flour
425ml/ 3/4 pt beef stock
Method
Sift flour and salt into a large bowl and make a well in the centre. Add the eggs and a little milk and beat until smooth, gradually beat in the remaining milk to make a smooth batter. Leave to stand for 30 mins.
Preheat the oven to 220C/Fan 200C/425F/Gas Mark 7. Divide the oil, sausages and onions between four shallow ovenproof dishes or 1 large roasting tin and toss to mix. Bake for 5 mins.
Remove the sausages from the oven, turn them all over, then pour over the batter. Bake for 25-30mins or until the batter has risen and is crisp and golden.
To make the gravy: heat the oil in a medium pan, add the onions and cook for 5 mins or until golden brown. Add the sugar and cook over a low heat for 2 mins or until caramelised.
Add the flour to the pan and cook, stirring for 1 min. Gradually add the stock, then bring to the boil and simmer for 1 min. Season to taste and keep warm. Serve the toad in the hole with the onion gravy.
Cooks tips
This toad in the hole batter mix recipe serves four (4). Reduce the amounts of ingredients, and cooking time, for toad in the hole for two.
Click on the stars to rate this recipe: