Tom Daley's Avocado & Egg Sliders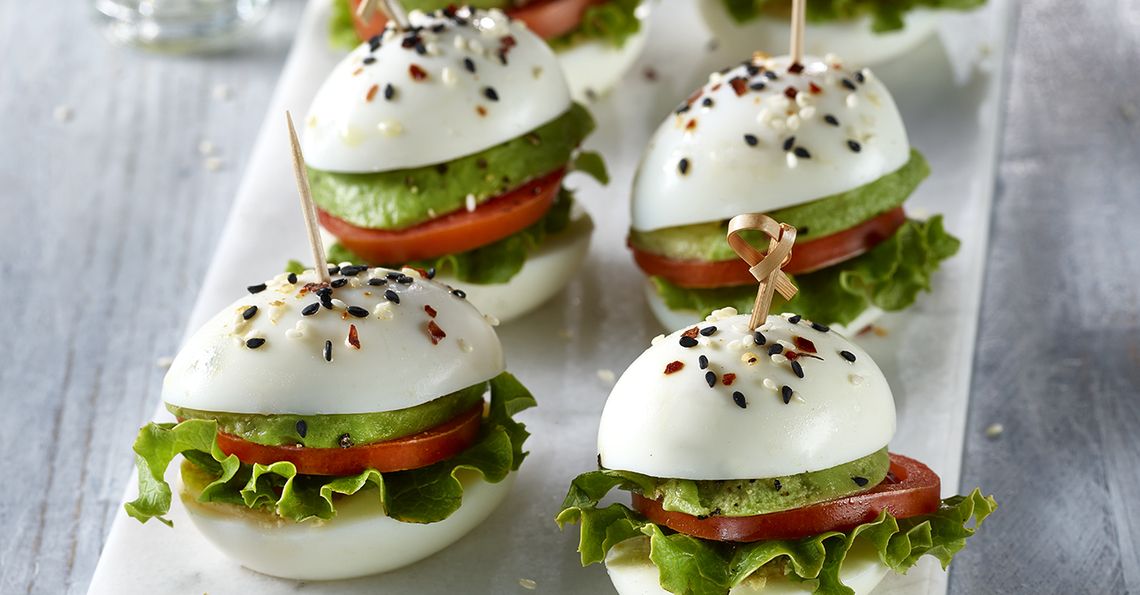 Ingredients
6 British Lion eggs
1 ready to eat avocado
1 tsp lemon juice
1 medium tomato
2 medium leaves curly lettuce
¼ tsp chilli flakes
1 tsp black & white sesame seeds
Method
1.    Place the British Lion eggs into a saucepan and add enough cold water to cover them by 1cm. Bring to the boil then reduce to a simmer and cook for 7 minutes. As soon as they are cooked drain and cool them rapidly under cold running water. 
2.    Meanwhile thinly slice the avocado, drizzle over the lemon juice.
3.    To peel the eggs, crack the shells all over on a hard surface. Then peel the shell off, and rinse.
4.    Slice each hard-boiled egg in half lengthwise, then cut a small slice off the base of 6, so the egg slider can lay flat and not tip over once assembled.
5.    Slice the ends off the tomato, then cut the remaining into 6 slices. Cut 6 small pieces off the lettuce leaves and divide between the egg bases, then top with a tomato slice and the avocado. Season with salt and pepper.
6.    Put the other half of the egg face down on top to create a little sandwich. Secure with a toothpick inserted down the centre. Brush the tops very lightly with a drop of water then sprinkle over the chilli flakes and sesame seeds. 
 
Cooks tips
 Older eggs are easier to peel than fresh eggs. The rapid cooling of the eggs helps to prevent dark rings forming between the yolk and the white
Click on the stars to rate this recipe: