Smoked Salmon and Beetroot Frittata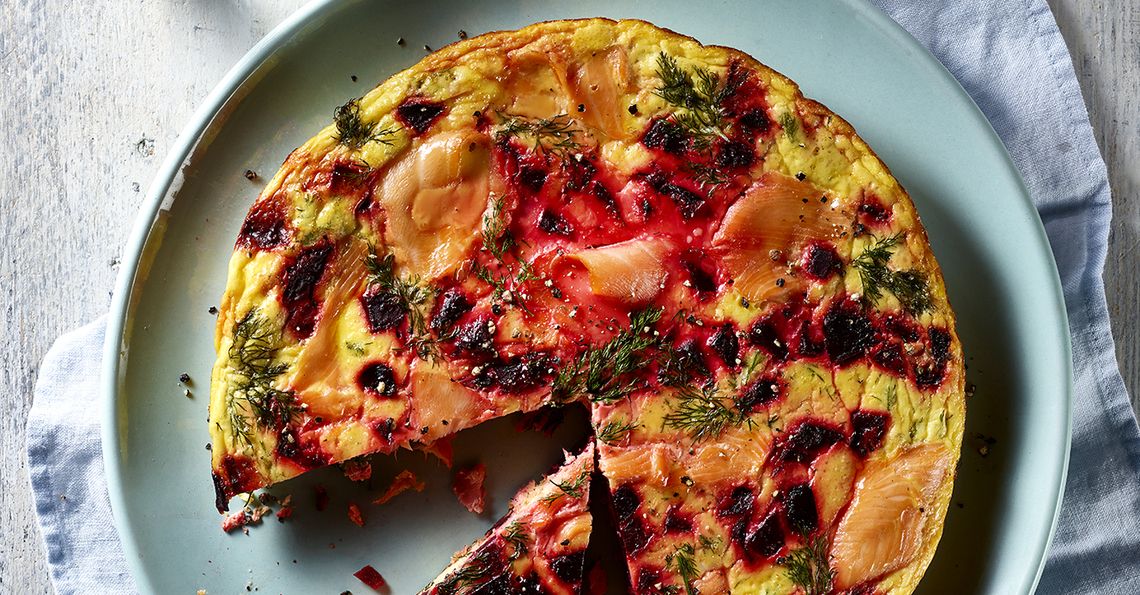 Serves: 8
Prep: 5 mins
Cook: 20 mins
Ingredients
½ tbsp olive oil
1 onion, finely chopped
10 large British Lion eggs
200g 0% fat Greek style yoghurt
10g bunch fresh dill, roughly chopped
200g cooked beetroot, 1 cm cubed
200g smoked salmon, torn into 3cm strips
Steamed vegetables or salad, to serve
Method
1.    Heat the oven to 200C/180C fan/gas 6. Heat ½ tbsp oil in a large (approx 28cm) non-stick ovenproof frying pan and sauté the onion for 3 minutes over a medium to high heat.
2.    Meanwhile in a large bowl mix the British Lion Eggs, yoghurt and half the dill until smooth and combined.
3.    Sprinkle ¾ of each of the beetroot and smoked salmon into the pan then pour over the egg mixture. Scatter with the remaining beetroot, smoked salmon and dill. Reduce the heat to low/medium and cook for 10 minutes to set the base then transfer to the oven to bake for 8-10 minutes or until set. 
4.    Serve in slices with steamed vegetables or salad.  
 
Cooks tips
Feeling hungry? You can add in your favourite squash or potato to this recipe. Sweet potato or new potatoes would be ideal. Chop approx. 750g of your chosen veggie into 2cm cubes. Place in a single layer on a large baking tray and drizzle with 1 tbsp oil. Season with salt and pepper, toss to coat then roast for 30-35 minutes at 190C/170C fan/Gas 5 until tender. Add to the pan with the beetroot & salmon.
Click on the stars to rate this recipe: