Tom Daley's bubble and squeak stack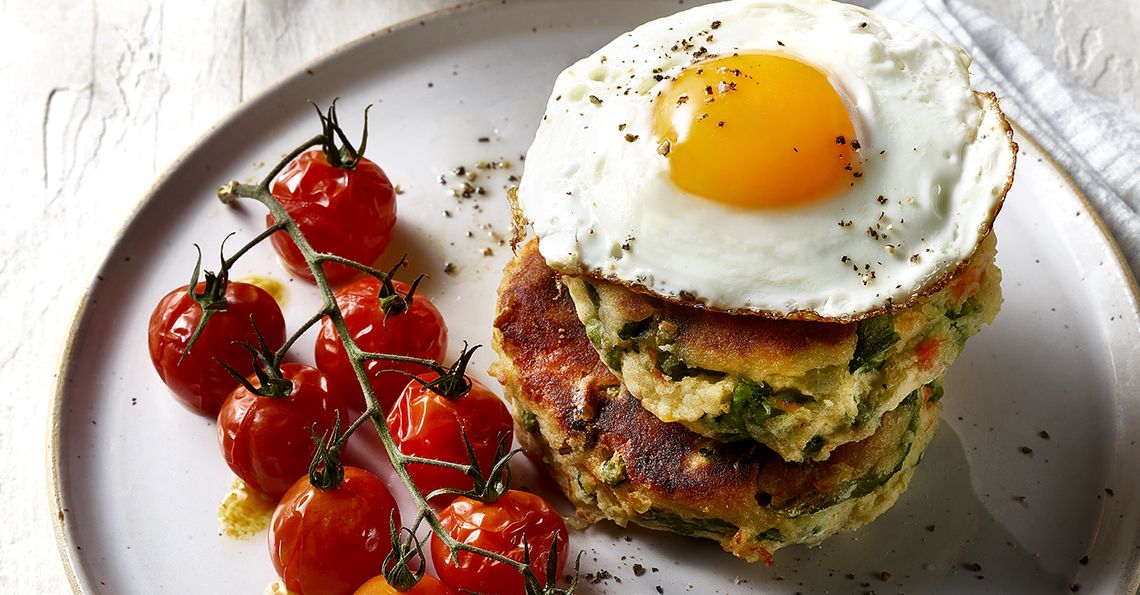 Serves: 2
Prep: 5 mins
Cook: 15 mins
Bubble and Squeak is a fantastic way to use leftover vegetables from Sunday lunch, making it a fantastic option for a Monday lunch or dinner. Tom adds an egg-tra twist to this classic British dish by topping with a fried egg. Eggs are full of key vitamins and minerals including vitamin D, selenium, B12 and omega-3 fatty acids.
Ingredients
3 tomatoes or 2 small vines of cherry tomatoes
300g leftover mashed potatoes, or cooked potatoes (roasted, boiled or baked)
150g cooked vegetables (a mix of cabbage, carrots and peas is ideal)
25g breadcrumbs
1 tsp Dijon or wholegrain mustard
Salt and pepper
3 British Lion eggs
2 tbsp plain flour
2 tbsp sunflower oil
Method
Heat oven to gas mark 5/190°C/170°C fan. Line a baking tray with non-stick baking paper. Add the tomatoes to one side.
In a large bowl, lightly mash the potatoes and vegetables together until you have a chunky mixture. Add breadcrumbs, mustard, season with pepper and crack in one British Lion egg. Stir well to form a soft but mouldable mixture. 
Divide the mixture into 4, lightly flour your hands and roll each piece into a ball. Flatten slightly to make a patty. 
Heat 1 tbsp of oil in a large frying pan, add the patties and cook over a medium heat for 2 - 3 minutes per side until deep golden. Transfer to the baking tray with a fish slice and bake for 15 minutes. 
When almost ready, wipe out the pan and add the remaining oil. Crack in the remaining British Lion eggs and cook over a medium-high heat for a few minutes, or until cooked to your liking. 
To serve, stack the bubble and squeak cakes on two plates, add tomatoes on the side, and top each stack with a fried egg.
Cooks tips
If you are using a creamy mash you may need to add extra breadcrumbs to stiffen the mixture.
Click on the stars to rate this recipe: