Tom Daley's soufflé omelette with artichokes, peas and asparagus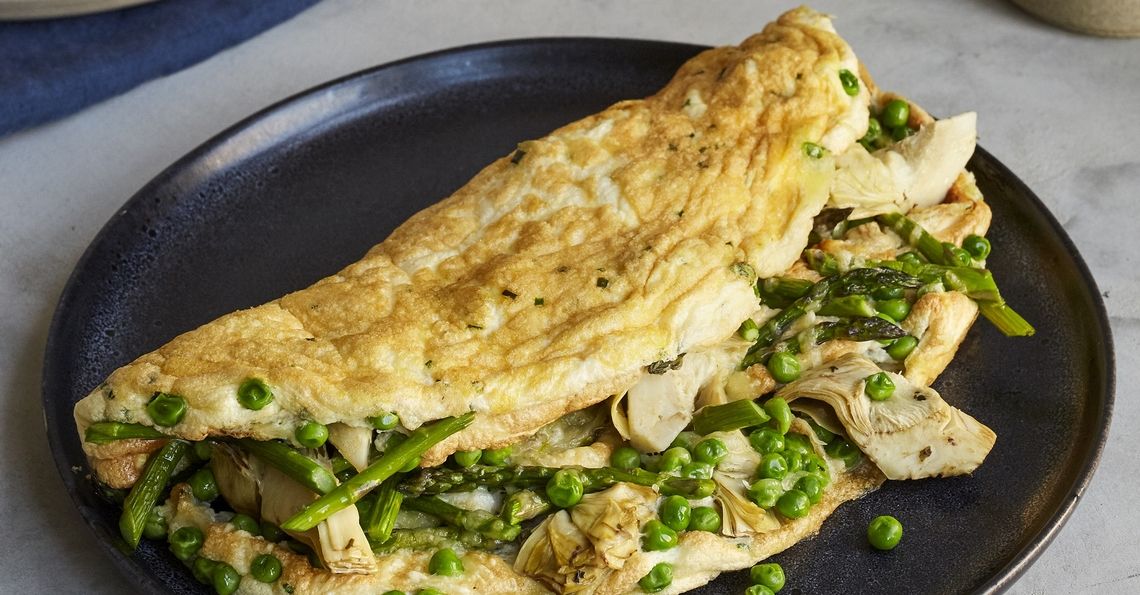 Serves: 2
Prep: 10 mins
Cook: 5 mins
Ingredients
100g frozen peas
100g asparagus, trimmed and cut into 2cm pieces
100g artichoke hearts
4 large British Lion eggs, separated
50g gruyère cheese, grated
1 tbsp chives, finely chopped
2 tsp olive oil
1 slice of toast
Method
Preheat the grill to high.
Mix together the peas and asparagus. Cover with boiling water and leave for 5 minutes. Drain and set aside.
In a large, clean bowl, whisk the egg whites until stiff and fluffy. In a small bowl, whisk the egg yolks with half the gruyère, all the chives and a pinch each of salt and pepper then gently fold the egg yolk mixture into the fluffy whites. Make sure everything is incorporated but take care not to knock out any precious air from the egg whites. 
Heat the olive oil in a frying pan over a high heat. Pour in the egg mixture and leave to cook for 1 minute. Gently scatter over the peas, asparagus and artichokes and sprinkle over the remaining grated cheese.
Place under the hot grill for 3-4 minutes until the omelette is golden and the cheese has melted. Fold in half and serve immediately with the toast.
Nutritional information, per serving:

| Calories | Carbs | Protein | Fat | Saturates | Salt |
| --- | --- | --- | --- | --- | --- |
| 509 | 32.4g | 34.0g | 28.8g | 11.4g | 1.7g |
Click on the stars to rate this recipe: