Tropical fruit pavlova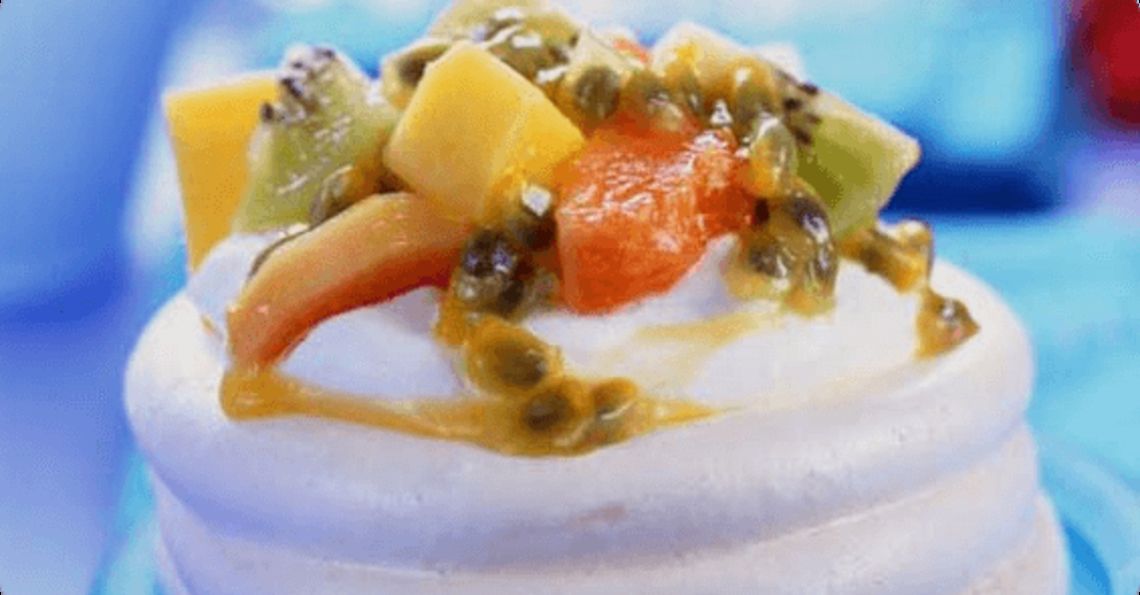 Serves: 6
Prep: 15 mins
Cook: 60 mins
This delicious dessert is suprisingly low in calories with only 356 per portion
Ingredients
3 large British Lion egg whites
175g / 6oz caster sugar
5ml / 1tsp cornflour
5ml / 1tsp raspberry or white wine vinegar
A few drops vanilla essence
For the filling:
300ml / 1/2 pt crème fraiche
1 mango, peeled, stoned and diced
1 papaya, peeled, deseeded and diced
2 kiwi fruit, peeled and diced
2 passion fruits, halved
Method
Preheat the oven to 140C/Fan 120C/275F/Gas Mark 1 and grease a large baking sheet and line with non-stick baking parchment.
Place egg whites in a large, clean bowl and use an electric whisk to whisk them until they are thick, white and stiff peaks form. Add about a third of the sugar and whisk again until the egg whites are stiff and shiny. Add the sugar in two more batches whisking in between. When all the sugar has been whisked in the egg whites will be really stiff, white and shiny. In a small bowl, mix the cornflour, vinegar and vanilla together until smooth, then fold into the meringue.
Divide the meringue onto six heaps, then use the back of a spoon to shape the mixture into nest shapes. Alternatively spoon the meringue into a large piping bag fitted with a plain nozzle and six 7.5cm/ 2 1/2 in diameter circles. Then pipe a double layer of meringue around the edge of the circles to form nest shapes.
Bake the meringues for 1 - 1 1/4 hrs or until the base of the meringues feels dry and crisp when tapped.
To complete: whip the crème fraiche until it forms soft peaks then spoon into the centre of the meringues. Top with the mango, papaya and kiwi fruits, then spoon over the passion fruit seeds. Serve within 1 hour of filling.
Click on the stars to rate this recipe: