Vegetable biryani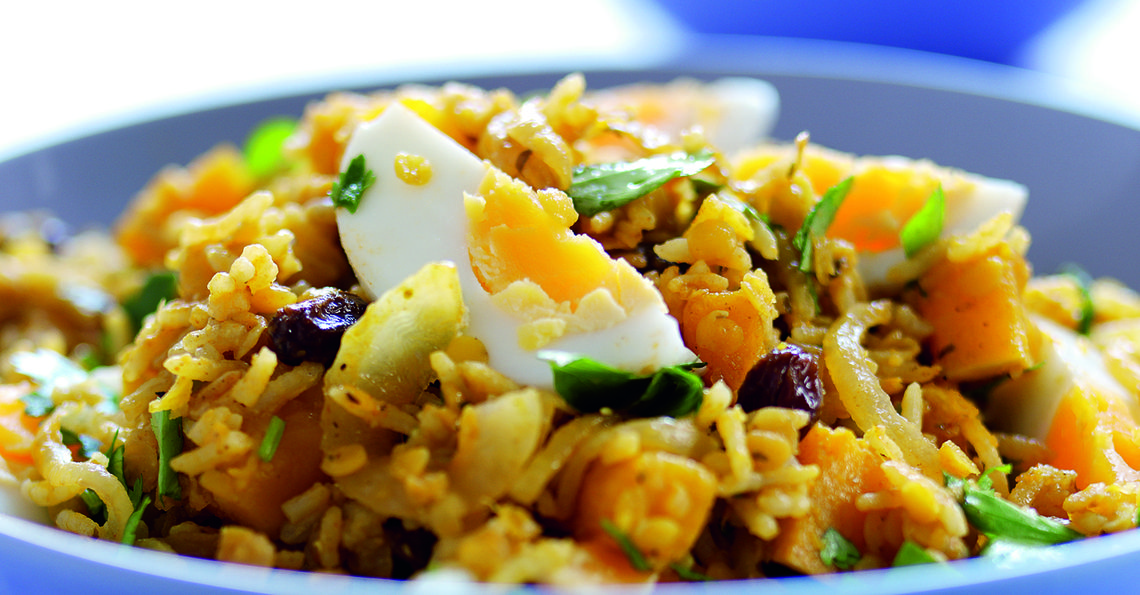 Serves: 4
Prep: 10 mins
Cook: 25 mins
Economical, tasty and easy to prepare. There's no need to peel the butternut squash - the skin becomes soft enough to eat during cooking. Just give it a good wash before you start.
Ingredients
30ml/2 tbsp vegetable oil
1 large onion, sliced
2.5cm piece root ginger
2 cloves garlic, crushed
350g/12oz butternut squash, deseeded and diced
30ml/2tbsp medium curry paste
175g/6oz basmati rice
100g/4oz red lentils
75g/3oz raisins
900ml/1 1/2pt vegetable stock
Salt and freshly ground black pepper
6 large British Lion eggs
45g/3 tbsp chopped fresh coriander (optional)
Method
Heat the oil in a large pan, add the onions and sauté for 4-5mins or until golden. Stir in the ginger, garlic and butternut squash and sauté for 2mins.
Add the curry paste, rice, lentils, raisins and stock and bring to the boil. Cover and simmer for 10-15mins or until the squash and rice are tender.
Meanwhile, place the eggs in a medium pan, cover with water and bring to the boil. Simmer for 7mins. Drain the eggs, then rinse in cold water. Tap the shells all over and peel away. Cut the eggs into quarters.
Remove the lid from the rice and give it a good stir - most of the liquid should have been absorbed by the rice. Adjust the seasoning, stir in the coriander and eggs. Cover again for 1-2mins to heat through the eggs before serving.
Click on the stars to rate this recipe: