Warm lentil and egg salad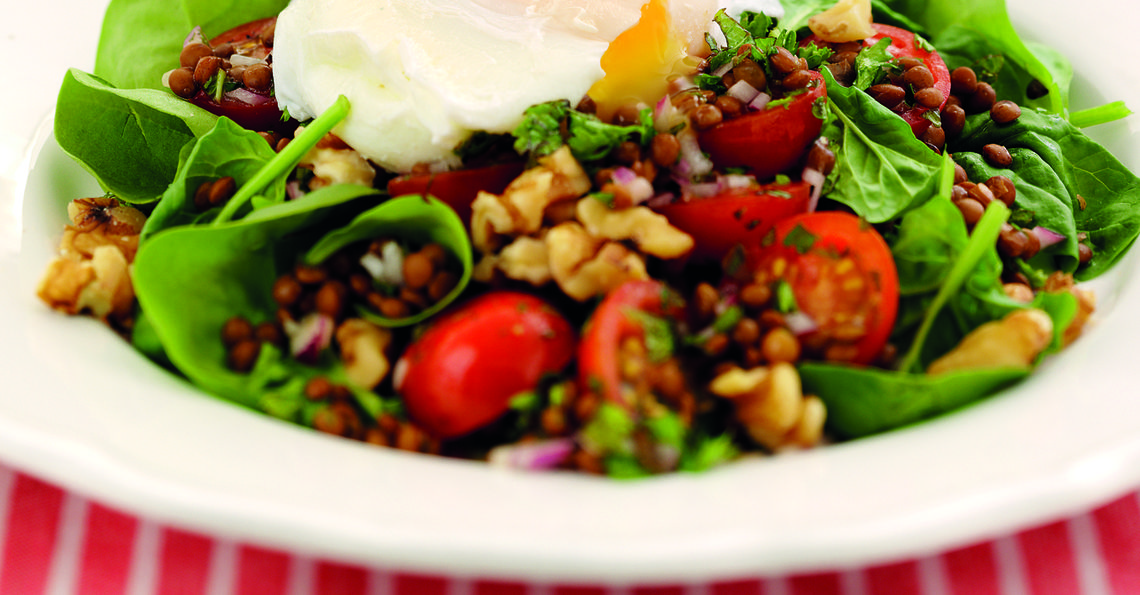 Serves: 4
Prep: 10 mins
Cook: 30 mins
Perfect for refuelling this meal provides high amounts of both carbohydrate and protein needed for speeding glycogen recovery and muscle repair. Lentils also supply high levels of fibre, iron and zinc, the latter two nutrients being important for strengthening the immune system. The addition of olive oil and walnuts improves the fatty acid profile of the dish, boosting the ratio of monounsaturated to saturated fats, and increasing the body's ability to deliver oxygen during exercise.
Ingredients
200 g /7 oz Puy lentils (or 2 x 250g pouches Merchant Gourmet ready-cooked puy lentils)
1 red onion, finely chopped
225 g / 8 oz cherry tomatoes, halved
1 tablespoon/ 15ml chopped fresh parsley
1 tablespoon/ 15 ml chopped fresh mint
3 tablespoons/ 45 ml extra virgin olive oil
1 tablespoon/ 15 ml red wine vinegar
Salt and freshly ground black pepper
60 g / 2 oz walnut pieces
100g/ 3 ½ oz baby leaf spinach
4 medium British Lion eggs
Method
Place the lentils in a large saucepan with 600ml (1 pint) vegetable stock, and bring to the boil. Reduce the heat and simmer for 25 - 30 minutes or until tender. Drain and transfer to a large bowl. Mix the cooked (or ready-prepared) lentils with the chopped red onion, tomatoes and herbs.
Place the olive oil and red wine vinegar in a bottle or screw top glass jar and shake together. Pour the dressing over the lentil salad. Toss lightly and season with salt and pepper.
Arrange the spinach leaves on four plates or bowls, spoon the lentil salad on top then scatter over the walnuts.
Meanwhile, bring a large pan of water to the boil. Break the eggs into the water and cook for 3 – 4 minutes. Lift them out with a slotted spoon and place on top of the lentil salad.
Nutritional information, per serving:

| Calories | Protein | Fat | Saturates | Salt |
| --- | --- | --- | --- | --- |
| 425 | 22.9g | 24.8g | 3.6g | 0.3g |
Click on the stars to rate this recipe: