Sounds tasty! Sweet potato recipes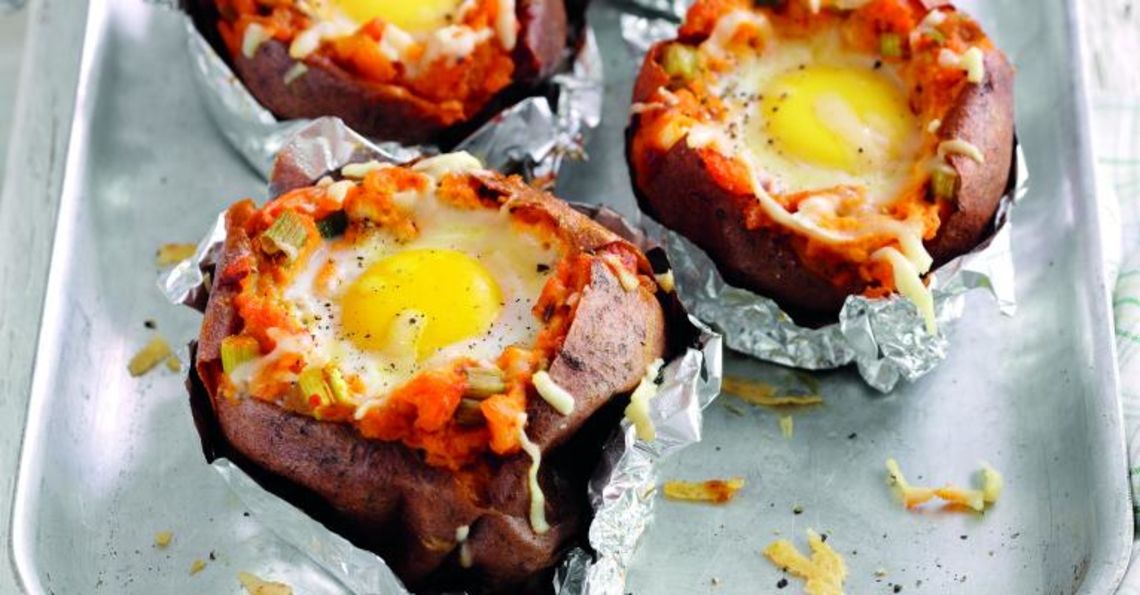 We all love sweet potato; their irresistible softness and unique taste makes them a great meal option especially if you want something easy.
They work their way nicely into varying styles of dishes and are suitable for breakfast, as a snack or as part of a main meal. The best part is that they go hand-in-hand with eggs, both in taste and versatility, opening a whole range of delicious recipes to try. Let's see what we have…
The omelette is one of the ultimate comfort foods, but you can whip it out of its comfort zone with a kick of spice and peppers to take it to the next level. The Spanish build a thick swell of egg in their omelettes as opposed to the thinner Western methods and add an array of seasoning to boost the whole thing with flurry of tastes and textures in one neat eggy package.   
If you're looking to serve up the perfect nibbles at your next gathering then the Spanish tortilla is an awesome sharing centrepiece, particularly in the company of sweet potato! It provides you with a healthy kick, packing protein, carbohydrates and three times the amount of vitamin C than your everyday spud. This recipe is minimal in ingredients but provides maximum flavour with a tempting golden brown colour.
This dish guarantees satisfaction by blending tender vegetables with an eggy base to result in a deeply satisfying and comforting  bake. This is an ideal cheap and cheerful meal, using  easily-found ingredients. Extra salad and vegetables work incredibly well with this bake on the side which makes the whole thing perfect for vegetarians too!
Sweet potatoes lend themselves incredibly well with a bit of spice, which really brings out the flavours. Adding a lovely runny yolk, harissa paste and spring onions to the mix makes this a recipe to impress with little effort. A speedy 5-minute prep time allows you to kick back and let the ingredients do the work - but don't be hasty in the time you allow it to cook - be sure to allow the skin to crisp for a wonderful texture.
One of Egg Recipes' top chef pals, Paul Merrett, whipped up this delicious sweet potato recipe which comes with a handy video guide. The addition of mushroom and feta helps lock in various flavours and there's also a quick dip recipe made just for this this tortilla! Learn from the master in the video or check out an easy-to-follow method on the same page.
So there are our awesome sweet potato recipes - but it doesn't stop there!  Explore our range of egg recipes right here on our website or check out our awesome app to accompany you when in the kitchen.