Sweet potato and pepper Spanish omelette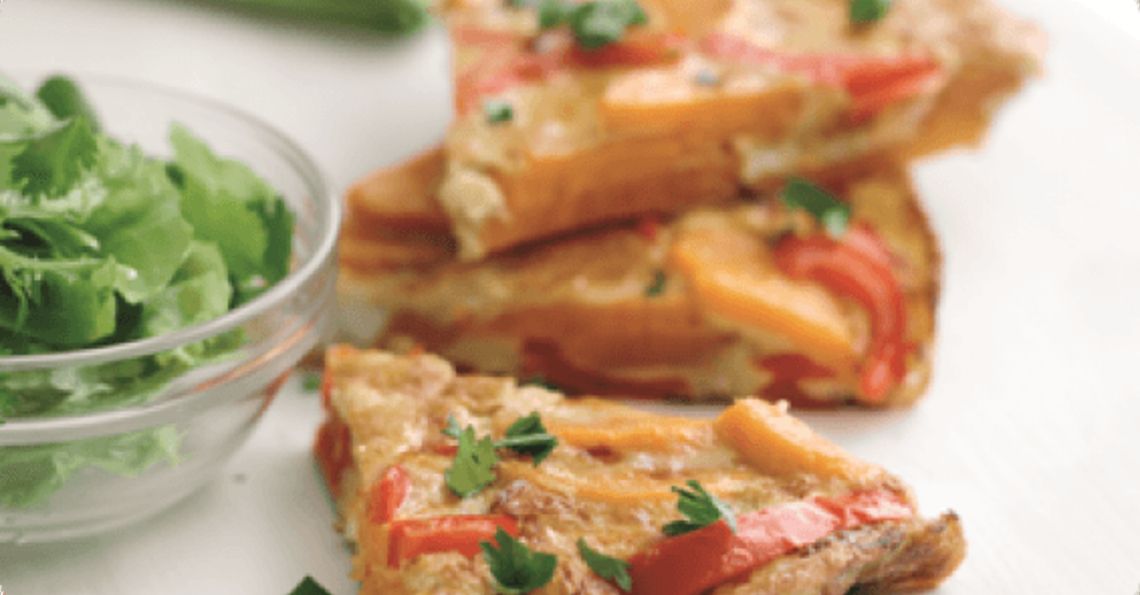 Serves: 3
Prep: 5 mins
Cook: 25 mins
Omelettes are famous for their simplicity, but that doesn't mean they can't be packed with flavour. Enjoy the creamy texture and sweet-spicy flavour of sweet potato with the peppery taste of parsnip infused with coriander - this is a delicious Spanish omelette that will keep you fuller and happier for longer.
Why not try one of our other interesting omelette recipes? From a simpler brie and chive omelette to our prawn noodle broth with omelette recipe.
Ingredients
1 large peeled sweet potato cut in half lengthways and then into 5mm (¼in) slices
1 tbsp vegetable oil
1 red pepper deseeded and cut into thin slices
2 garlic cloves, peeled and crushed
6 British Lion eggs, beaten
Salt and freshly ground black pepper
2 tbsp parsley chopped
2 tbsp coriander chopped
Method
Place the sweet potato in a saucepan, cover with water, bring to the boil and cook for about 5 minutes until just tender. Drain well.
Heat the oil in a frying pan and gently fry the pepper and garlic for about 5 minutes until softened. Add the sweet potato slices, and cook, stirring, for a further minute.
Pack the vegetables evenly over the base of the frying pan and pour in the eggs and plenty of seasoning. Cook over a gentle heat for about 10 minutes, mixing the cooked egg from the edge of the pan into the centre, until the egg is set all over.
Preheat the grill to hot, and place the omelette under the grill, protecting the frying pan handle if necessary, to cook for 2–3 minutes to brown the top.
Serve hot or cold, straight from the pan, cut into wedges, and sprinkled generously with the chopped herbs.
Nutritional information, per serving:

| Calories | Carbs | Protein | Fat | Saturates | Salt |
| --- | --- | --- | --- | --- | --- |
| 252 | 14.5g | 16.4g | 14.9g | 3.5g | 0.8g |
Click on the stars to rate this recipe: