Spiced sweet potato and egg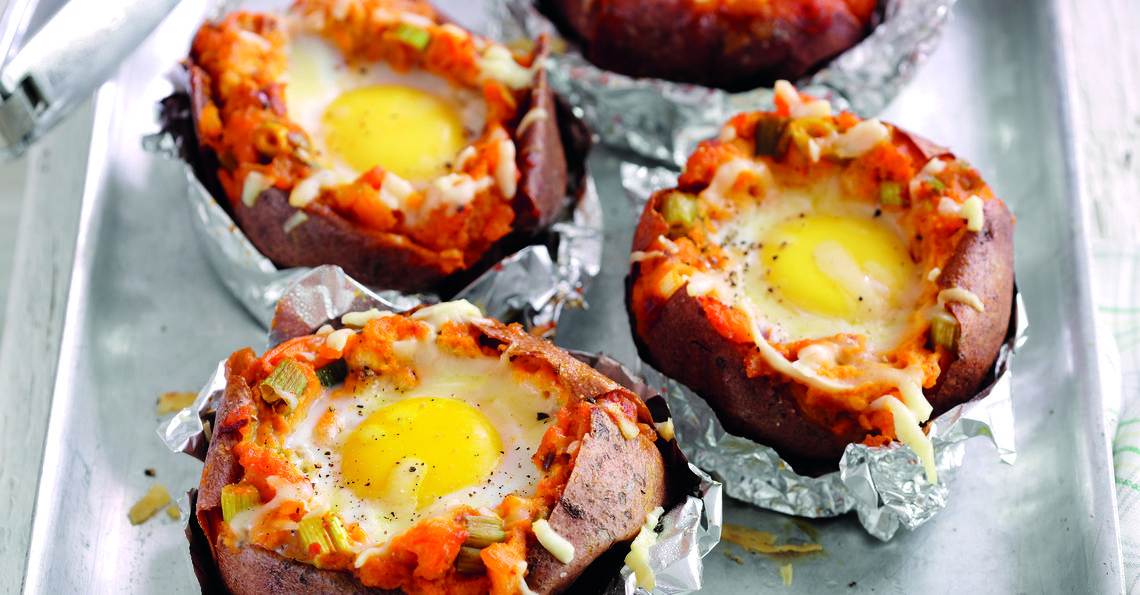 Serves: 5
Prep: 5 mins
Cook: 60 mins
Why not swap your next jacket potato for a healthy alternative with our spiced sweet potato and egg recipe? A simple but flavoursome dish, we use fragrant harissa paste for an aromatic kick before adding a tasty egg right in the middle. Scatter with low-fat cheese, serve with salad and enjoy!
Ingredients
1 (225g/8oz) sweet potato, scrubbed
2.5ml/1/2 tsp Harissa or chilli paste
1 spring onion, sliced
1 large British Lion egg
25g/1oz low fat cheddar cheese, grated
Method
Preheat the oven to 200C/Fan 180C/400F/Gas Mark 6.
Prick the potato skin all over with a fork and rub salt into the skin. Bake for 40-50 minutes or until tender.
Wrap the base of the potato in foil.
Cut a cross in the potato and mix the Harissa and spring onion into the potato flesh.
Make a hollow in the middle of the potato and carefully crack in the egg.
Scatter over the cheese and return to the oven for a further 8-10 minutes or until the egg is baked to your liking.
Serve with salad.
Click on the stars to rate this recipe: