Mediterranean Egg Salad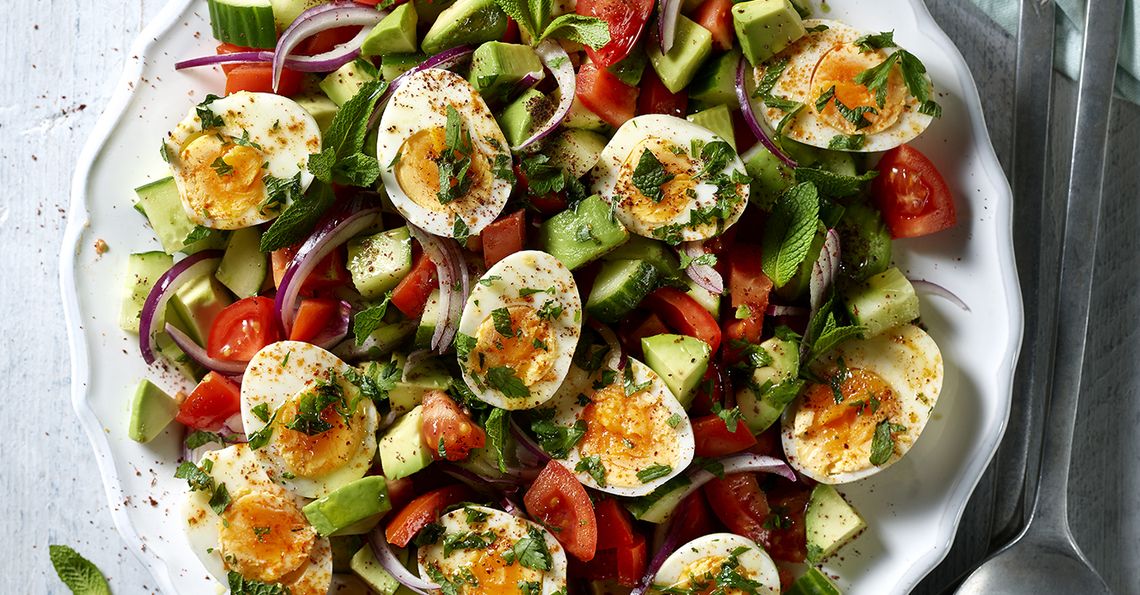 Serves: 4
Prep: 10 mins
Cook: 10 mins
Ingredients
6 large British Lion eggs
2 ½ tbsp extra virgin olive oil
¾ tsp mild chilli powder
1 tbsp freshly chopped parsley
1 tbsp freshly chopped mint leaves
300g medium tomatoes, roughly chopped
200g cucumber, 2cm cubed
1 large avocado, 2cm cubed
1 small red onion, finely sliced into crescents
½ lemon, juiced
½ tsp sumac
Method
1.    Place the British Lion eggs into a saucepan and add enough cold water to cover them by 1cm. Bring to the boil then reduce to a simmer and cook for 7 minutes. As soon as they are cooked drain and cool them rapidly under cold running water. 
2.    To peel the eggs crack the shells all over on a hard surface then peel the shell off and rinse. Cut each egg into quarters and place on a plate. Drizzle with ½ tbsp olive oil then scatter with ½ tsp chilli powder, chopped herbs and season with salt and pepper.
3.    Place the tomatoes, cucumber, avocado and red onion on a serving dish (if not serving straight away toss the avocado gently in a little lemon juice to prevent browning.) Drizzle with the remaining 2 tbsp olive oil, lemon juice, then sprinkle with the sumac and remaining ¼ tsp chilli powder.
Cooks tips
The rapid cooling of the eggs helps to prevent dark rings forming between the yolk and the white.
 
Click on the stars to rate this recipe: