Annabel Karmel's sweet potato and carrot rostis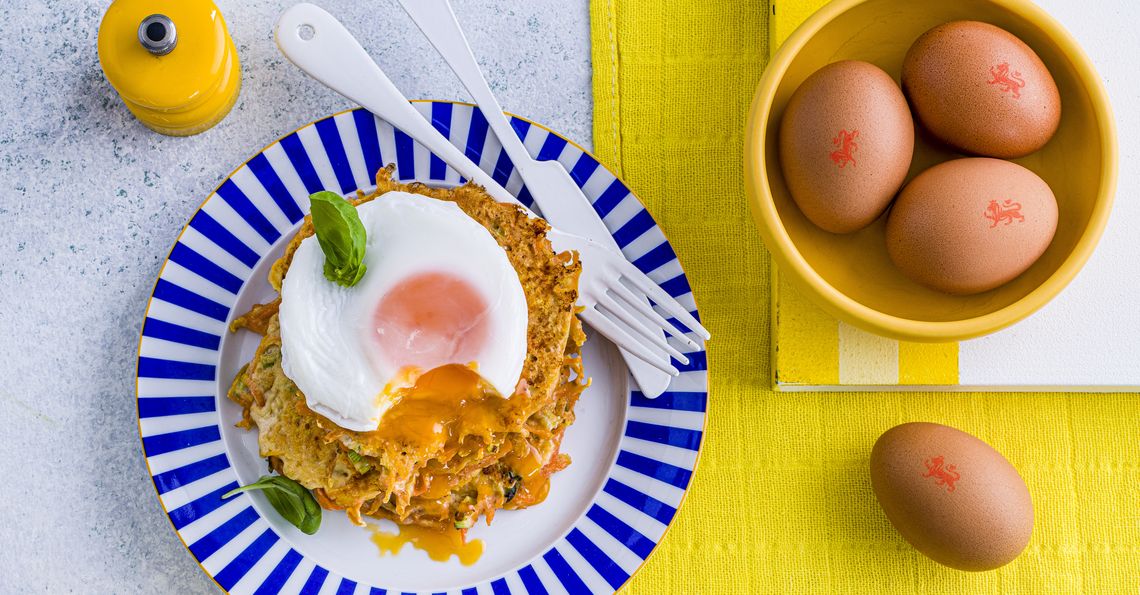 Prep: 10 mins
Cook: 10 mins
Suitable for: baby and toddler (9 months+)
Serves: 2 adult portions and 5 baby portions
Ingredients
125g carrot, peeled and grated
175g sweet potato, peeled and grated
50g Parmesan, grated
3 spring onions, sliced
1 tsp fresh thyme, chopped
3 medium British Lion eggs, beaten
70g self-raising flour
1 tbsp sunflower oil
Topping
1 medium British Lion egg per adult portion – poached
1 medium British Lion egg for baby / toddler portion – poached egg yolk, drizzled
Method
Measure all of the ingredients except the oil into a large bowl. Mix well.

Heat a little oil in a large frying pan, then add heaped tablespoons of the mixture to the pan.

Spread out and cook for 2 to 3 minutes each side.

You can make large rostis for adults by adding 2 heaped tablespoons of mixture to the pan, cooking them for 3 to 4 minutes each side.

For the poached egg topper, bring a pan of water to the boil and swirl the water. Crack each of the British Lion eggs into a ramekin. Tip into the water, then repeat with the second and third eggs.

Gently simmer for 3 to 4 minutes until the white is cooked but the yolk is still runny. Drain onto kitchen paper.

Add a poached egg to each adult portion and just the yolk to a baby / toddler portion.
Click on the stars to rate this recipe: