Rhiannon Lambert's little eggy veggie fritters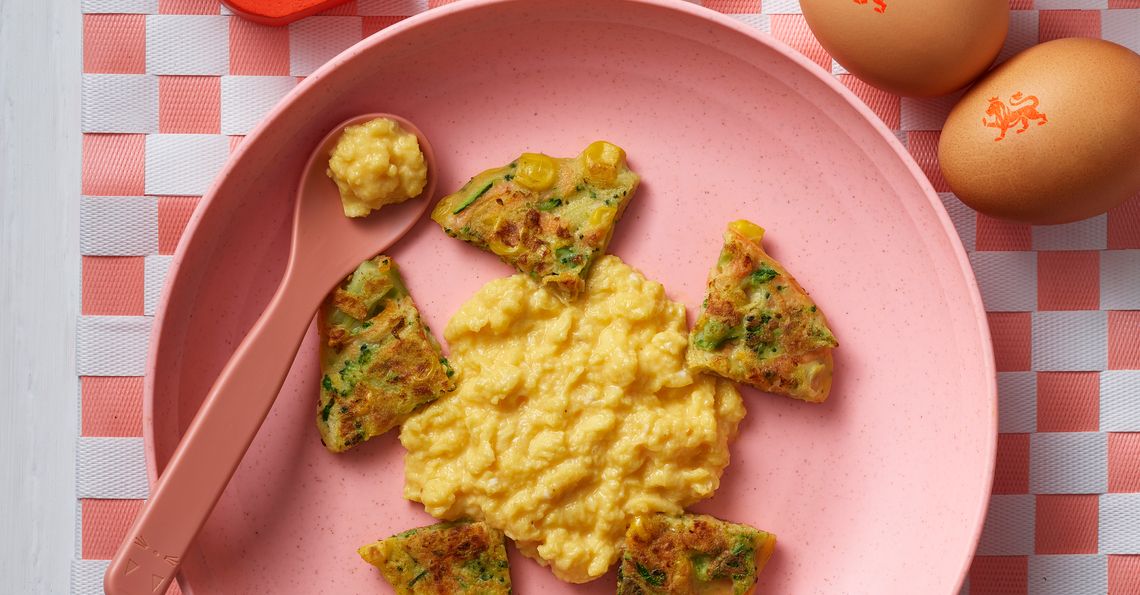 Serves: 8
Prep: 10 mins
Cook: 6 mins
Registered Nutritionist, Rhiannon Lambert, has created this recipe to feed to babies – little eggy veggie fritters. Latest research suggests that we should be introducing allergens early in the weaning process, from around 6 months, as this may reduce the risk of an allergy developing later on in life. After trying boiled and scrambled there are lots of different ways to cook eggs for growing babies, like these fritters.
Ingredients
40g broccoli florets
1 medium British Lion egg
40g self-raising flour
50g courgette
50g carrot
25g frozen sweetcorn
2 tbsp milk
A few drops of oil for frying
Method
Steam the broccoli florets for 3 minutes or until tender, then cool slightly and roughly chop. Grate the courgette and carrot together onto a board.
Crack the egg into a bowl, add the flour and beat together. Stir in the grated vegetables, sweetcorn and broccoli. Add enough milk to give the mixture a soft consistency.
Heat a non-stick frying pan and add a couple drops of oil and swirl around the pan. Drop a heaped spoonful of the batter into the pan and spread with the back of the spoon. Spoon in more 2-3 more fritters, leaving a 3cm gap between them.
 Cook over a medium heat for 2-3 minutes on each side, or until crisp and golden-brown. Transfer to a plate lined with kitchen paper. Repeat to make a total of 8 fritters and leave to cool.
To make the scramble, beat the egg and milk together in a bowl. Melt the butter in a small pan, add half the egg and cook, stirring over a medium heat until the egg has scrambled to your liking. Transfer the remaining half egg to a sealable container and store in the fridge, use within 24 hours to make more scramble.
Spoon the scrambled egg onto a plate and allow to cool. Cut the 1-2 fritters into quarters and arrange these around the egg to look like a flower.
Cooks tips
Cook's tip
Once cooked, fritters can be popped in a sealable container and kept in the fridge until required. Use within 48 hours. Gently reheat until piping hot in the microwave, then cool and serve as before.
Click on the stars to rate this recipe: