Sweet potato mash with soft boiled egg and broccoli puree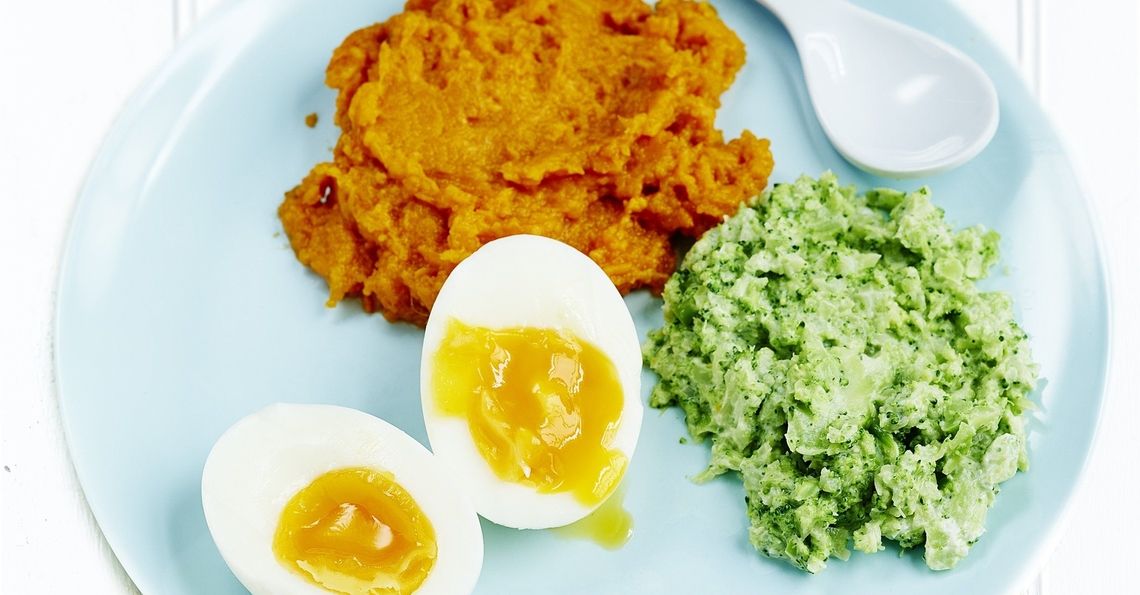 Serves: 1
Prep: 5 mins
Cook: 16 mins
A delicious and nutritious meal combining egg with vegetable purees. The recipe provides high quality protein, vitamins and minerals from the egg and extra nutrients from other ingredients such as some vitamin C in the broccoli and carotene in the sweet potato. Suitable from six months.
Ingredients
1/4 sweet potato, peeled and diced
4 florets broccoli
2 tsp creme fraiche or Greek yogurt
Knob of butter
One medium British Lion egg
Method
Add the sweet potato to a pan of water and bring to the boil. Cook for 10 minutes until tender then drain and mash well, stirring through the butter.
While the sweet potato is cooking, steam the broccoli for a few minutes over the water with a colander or steamer. Transfer to a blender and blitz to puree with the creme fraiche.
Meanwhile, bring a pan of water to the boil and lower in the egg. Simmer for 6 minutes then drain, rinse under cold water and leave to cool a little. Peel and quarter then serve with the mash and broccoli puree.
Click on the stars to rate this recipe: