Annabel Karmel's tomato and basil omelette for babies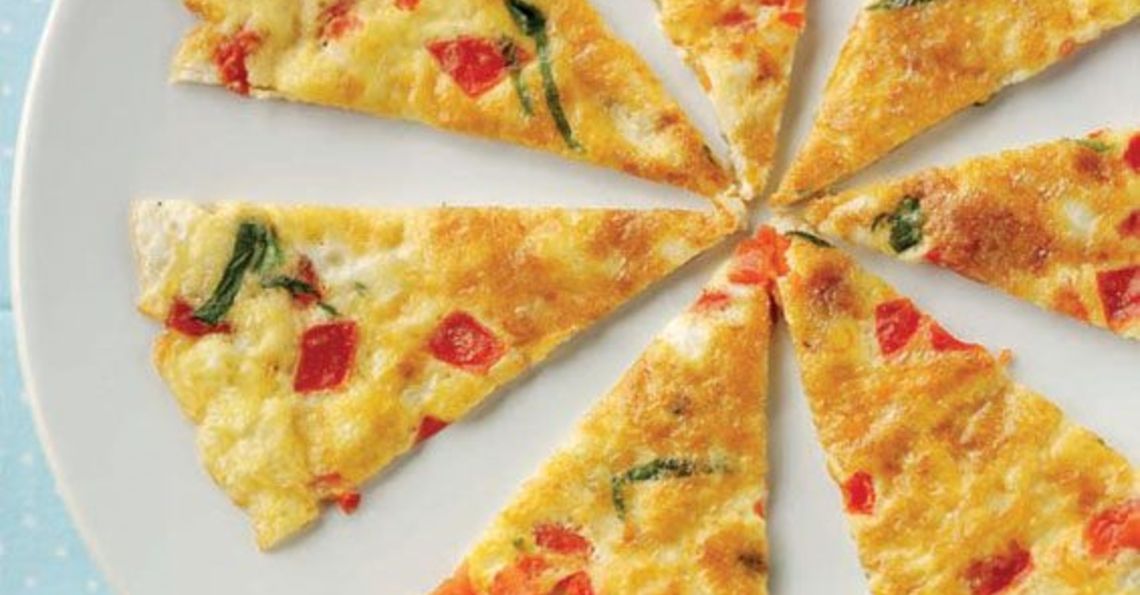 Serves: 1
Prep: 4 mins
Cook: 5 mins
A deliciously light and super-easy recipe to wake up your baby's tastebuds. A serving of light, fluffy slices of omelette, complete with creamy cheese and peppery basil to create a tasty baby omelette, ideal for baby to hold. This omelette provides high quality protein, important vitamins such as vitamin D, minerals including iodine, and omega-3 fats from the egg, as well as ingredients that provide other important nutrients for developing babies, such as calcium in cheese and vitamin C in the tomato. Suitable from six months.
Ingredients
A knob of butter
1 tomato, deseeded and diced
1 medium British Lion Quality egg, beaten
1 tbsp semi-skimmed milk
1 tbsp parmesan, finely grated (try another hard cheese if you prefer)
3 basil leaves, chopped (optional)
Method
Melt the butter in a small frying pan, then add the tomatoes and fry for one minute.
Mix the egg, milk, cheese and basil (if using) together in a small bowl.
Pour the mixture into the pan and swirl around to cover the base.
Once the omelette is set, which should take around 2 minutes, turn over and fry for a further 2 minutes.
Once cooked through flip the omelette onto a plate and slice into child-friendly pieces.
Nutritional information, per serving:

| Calories | Carbs | Protein | Fat | Saturates | Salt |
| --- | --- | --- | --- | --- | --- |
| 204 | 3.5g | 11.2g | 16.3g | 8.7g | 0.6g |
Transitioning to full meals can be a challenging time for parents and babies, especially when it comes to thinking of interesting and tasty baby food recipes that don't take hours to make. This recipe is perfect for busy parents, with less than 10 minutes in between prep and table.
Omelettes are just one of many baby and toddler recipes that are simple to make and taste delicious. Why not also try a Sweet potato and cheddar omelette or Poached egg on pureed peas? These quick and easy recipes ensure you can cook healthy and delicious meals for children with minimal time and fuss, meaning less time spent cooking and more time spent with the kids!
Click on the stars to rate this recipe: