Asparagus and leeks with egg dressing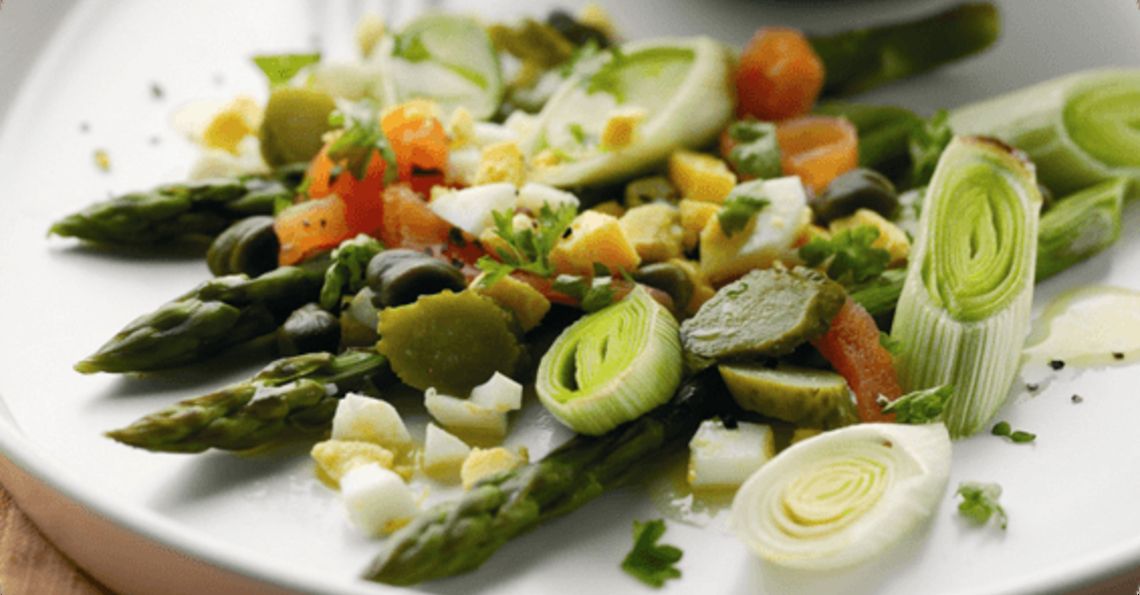 Serves: 2
Prep: 15 mins
Cook: 20 mins
Roasted Asparagus and Leeks with a Simple Egg Dressing
Ingredients
400g new potatoes, with their skins
8 asparagus spears
4 small leeks, sliced
15g butter
150ml hot chicken or vegetable stock
2 medium hard-boiled British Lion eggs
1tbsp freshly chopped parsley
1tbsp capers
4-6 cocktail gherkins
1tbsp extra virgin olive oil
1tsp white wine vinegar
50g smoked salmon, cut into strips
Method
Put the new potatoes in a pan of boiling water and simmer for 15-20min until tender. Drain well.
Preheat the oven to 180C/Fan 160C/Gas Mark 4. Put the asparagus and leeks in an ovenproof dish. Add the butter and stock and season well. Cover and cook in the oven for 20min.
Meanwhile, chop the eggs and put in a bowl with the parsley, capers and gherkins. Mix together the olive oil and wine vinegar in a separate bowl and season well. Add to the egg mixture and stir in.
When the asparagus and leeks are cooked, sprinkle over the smoked salmon and chopped egg mixture and serve immediately with the new potatoes.
Click on the stars to rate this recipe: