Bacon and egg quesadillas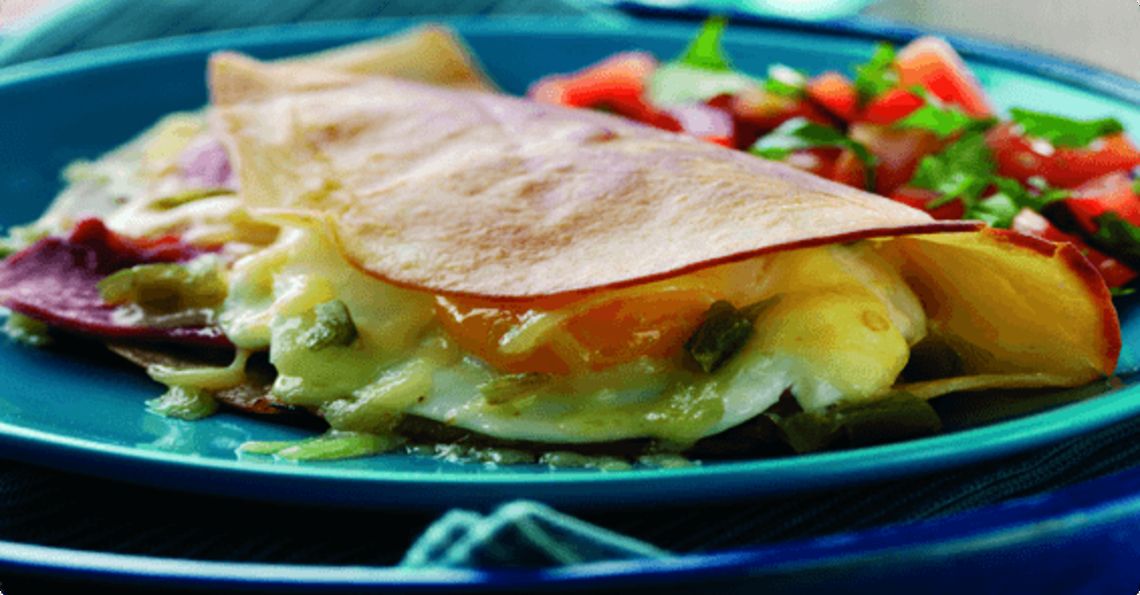 Serves: 4
Prep: 10 mins
Cook: 15 mins
The family is sure to enjoy these easy Mexican quesadillas as an alternative to a traditional English breakfast
Ingredients
8 rashers of lean back bacon
45ml/3 tbsp vegetable oil
4 large British Lion eggs
4 tortilla wraps
50g/2oz mild Cheddar cheese
2-3 tbsp pickled jalapeno chillies, chopped
Method
Cook the bacon under a hot grill for 6-8mins or until crisp and golden. Drain on kitchen paper then break into bite sized pieces
Heat 1 tbsp of the oil in a large non-stick frying pan. When hot, carefully crack the eggs into the hot oil and fry until the white has set. Tilt the pan, let the hot oil run, then spoon this over the egg yolks until the top is set. Or if you prefer, carefully flip over the eggs and cook to your liking. Gently lift the fried eggs from the pan with a spatula and transfer to a plate.
Lay the tortilla wraps out on the work surface, arrange some bacon and a fried egg over one half of each tortilla, then scatter over the cheese and chillies.
Brush the edge of the tortillas with water, then pinch them together to seal. Heat the remaining oil in the frying pan. When hot cook the quesadillas one at a time for a few minutes on each side until golden and hot. Don't worry if the edges pop open during cooking. Use a spatula to transfer to kitchen paper and drain. Cook the other 3 in the same way. Serve hot with tomato and coriander salad if desired.
Click on the stars to rate this recipe: