Bacon and Somerset brie pancakes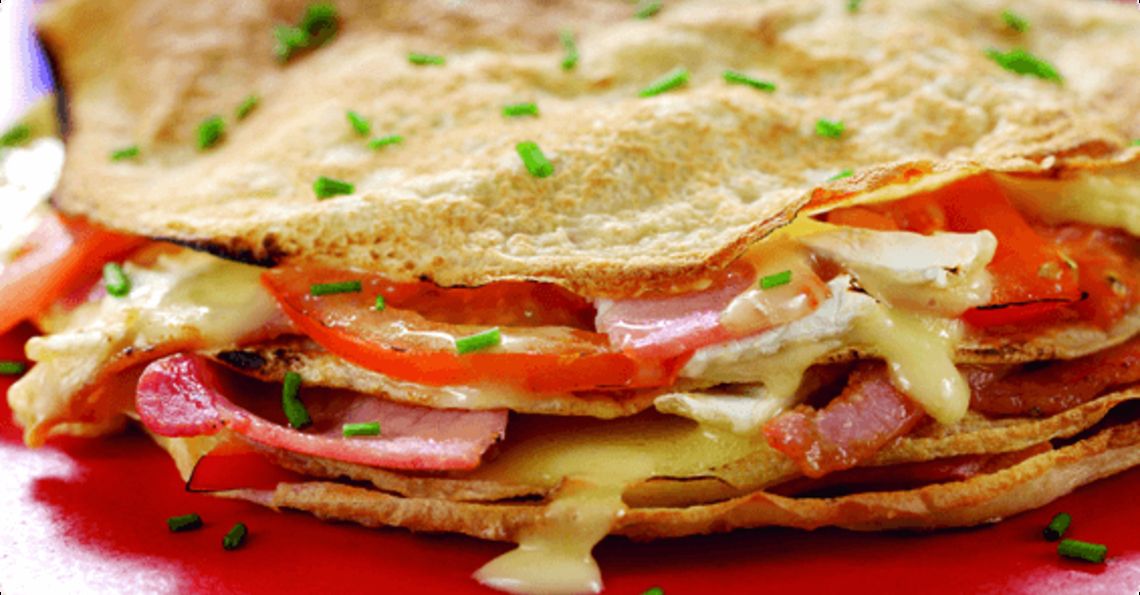 Serves: 4
Prep: 5 mins
Cook: 15 mins
Try these bacon and Somerset brie pancakes as a delicious savoury alternative to traditional sugar and lemon.
Nutrition (per portion): 345 Calories; 21.7g protein; 21.1g fat; 9.3g saturated fat; 18.3g carbohydrate; 2.7g salt
Ingredients
75g/3oz plain flour
Pinch of salt
2 large British Lion eggs
150ml/¼ pt milk
A little oil for frying
For the brie and bacon filling:
8 rashers back bacon
3 tomatoes
100g Somerset brie
Jalapeno peppers (if desired)
Fresh chives to serve
Method
Tip: If you like it spicy add a few sliced jalapeno chillies to the layers.
Place the flour, salt and eggs in a large bowl with half the milk. Whisk until the mixture is lump free. Add the remaining milk and whisk again until smooth. If you prefer, place all the ingredients together in a food processor and blend until smooth. Pour the batter into a jug. The batter can be made in advance and chilled for up to 8 hours before use.
Heat a 20cm/8in diameter non-stick frying pan until hot, drizzle a little oil over the centre and wipe it around with a piece of kitchen paper. Pour a little of the batter into the pan and immediately tilt the pan to spread the batter thinly and evenly over the base. Cook for 2 mins or until the top is set and the base golden. Turn the pancake over with a spatula, or if you are feeling brave, flip the pancake!
Cook for a further 1-2 mins or until the other side is golden. Transfer to a plate and interleave with greaseproof paper, and keep warm in the oven. Use the batter and a little more oil to make further 7-9 pancakes in the same way (depending upon thickness).
Preheat the oven to 200C/Fan 180C/Gas Mark 6. Grill bacon until crisp - about 8 mins.
Halve then slice the tomatoes and slice Somerset brie. Place a pancake on a lightly oiled baking tray and scatter over a third of the bacon, brie and tomatoes, repeat the layers twice and top, ending with a fourth pancake. 
Bake for 15 mins or until the pancakes are crisp and the cheese melted. Scatter over snipped fresh chives and serve.
Nutritional information, per serving:

| Calories | Carbs | Protein | Fat | Saturates | Salt |
| --- | --- | --- | --- | --- | --- |
| 345 | 18.3g | 21.7g | 21.1g | 9.3g | 2.7g |
Click on the stars to rate this recipe: