Raspberry Eggy Bread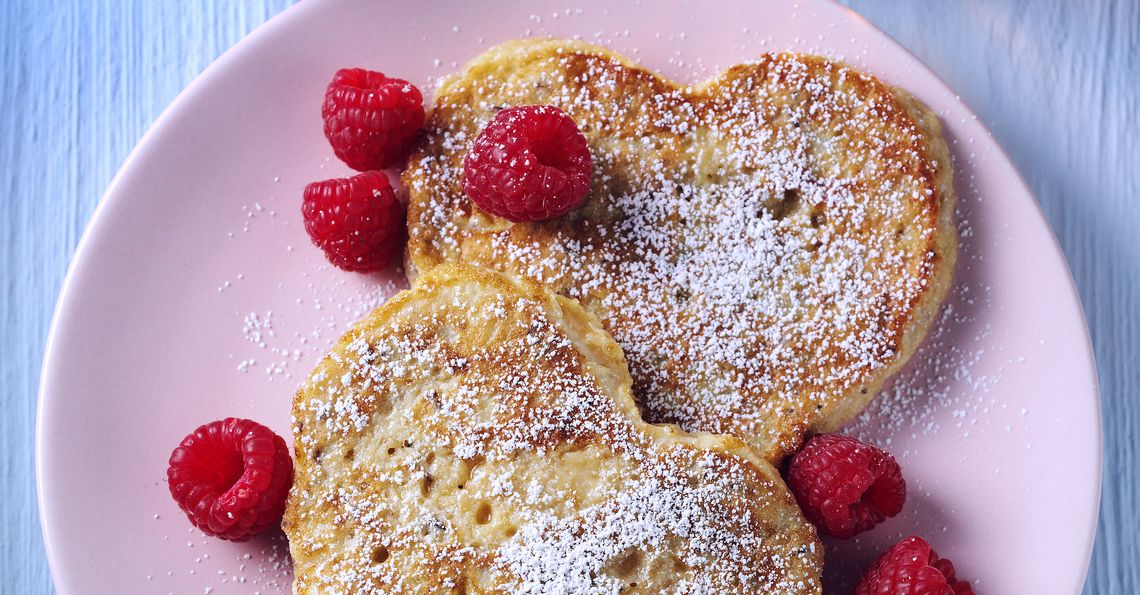 Serves: 2
Prep: 5 mins
Cook: 8 mins
Ingredients
4 slices medium sliced seeded bread
2 large British Lion eggs
2 tbsp caster sugar
1tsp vanilla essence
A little vegetable oil
100g fresh raspberries
A little icing sugar to serve
Method
1. Use a large heart shaped cutter to press out 4 hearts from the slices of bread. Alternatively make a heart shaped paper template and carefully cut around.
2. In a shallow bowl, beat the eggs, caster sugar and vanilla together. 
3. Add the heart shaped bread and leave to soak for a few minutes, turning so the egg soaks into the bread.
4. Push two thirds of the raspberries through a sieve to make a puree and sweeten to taste with sugar.
5. Heat a non-stick frying pan, add a little oil and add the hearts, two at a time, and cook for 2 minutes on each side until golden. Transfer to a plate and cook the remainder. 
6. To serve, stack up the hearts, top with raspberries, spoon the raspberry sauce onto the plate and dust with icing sugar.
 
Nutritional information, per serving:

| Calories | Carbs | Protein | Fat | Saturates | Salt |
| --- | --- | --- | --- | --- | --- |
| 391 | 56.5g | 14.8g | 12.4g | 2.1g | 56.5g |
Click on the stars to rate this recipe: