Stuffed peppers with rice, baked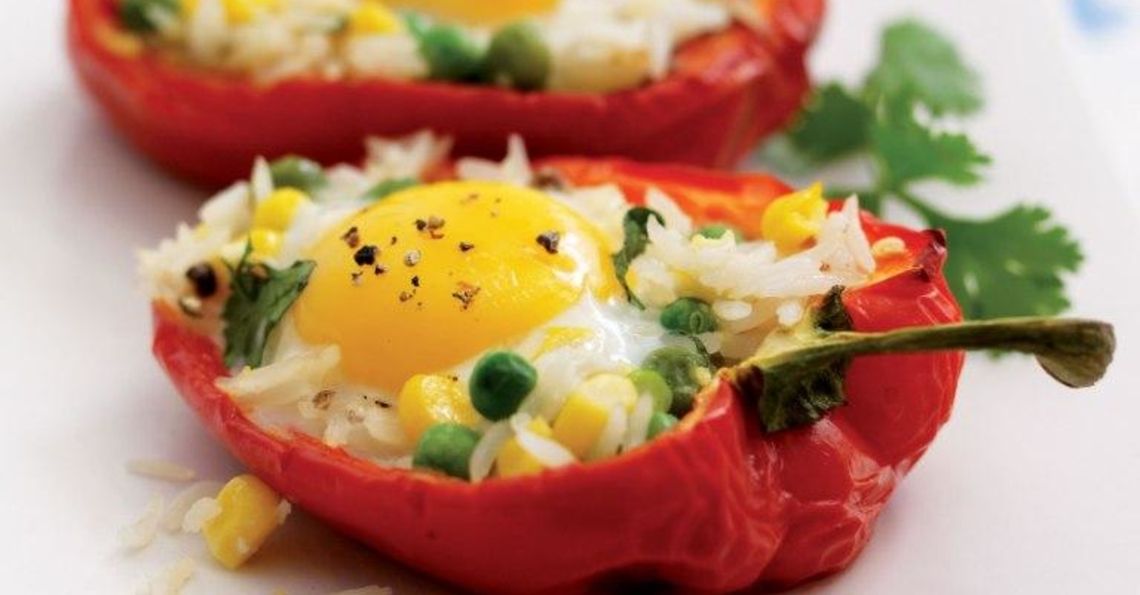 Serves: 4
Prep: 5 mins
Cook: 35 mins
Versatile, healthy and delicious, stuffed peppers are a brilliant way to enjoy a wholesome meal that can be made to suit your taste. Cut them in two and make them as simple or fancy as you like!
For our recipe we use egg-fried rice, tasty veg, fresh coriander and baked British Lion Eggs. For one final burst of flavour, drizzle a little soy on top before serving!
Recipe from Take a Box of Eggs, www.dairydiary.co.uk
Ingredients
4 large red peppers, halved and deseeded
1 tbsp olive oil
250g egg-fried rice
198g can sweetcorn, drained
50g (2oz) frozen peas
1 tbsp coriander chopped
Salt and freshly ground black pepper
8 British Lion eggs
Soy sauce to serve, optional
Method
Preheat the oven to 200°C/400°F/Gas 6. Place the peppers on a baking sheet and brush them on the inside and cut edges with the olive oil. Place the baking sheet in the oven and bake the peppers for 15 minutes.
Meanwhile, mix together the egg-fried rice, sweetcorn, peas, coriander and seasoning.
Remove the peppers from the oven and spoon the rice mixture into the cavities, pressing the mixture down well and hollowing it slightly in the centre. Break an egg into each pepper and grind a little black pepper on top of each one.
Return the baking sheet with the peppers to the oven and bake for a further 12–15 minutes, or until the eggs have just set.
Remove the peppers from the oven and serve two halves per person, with soy sauce, if using, to drizzle over the rice.
Click on the stars to rate this recipe: