Braised pork parlow with runny eggs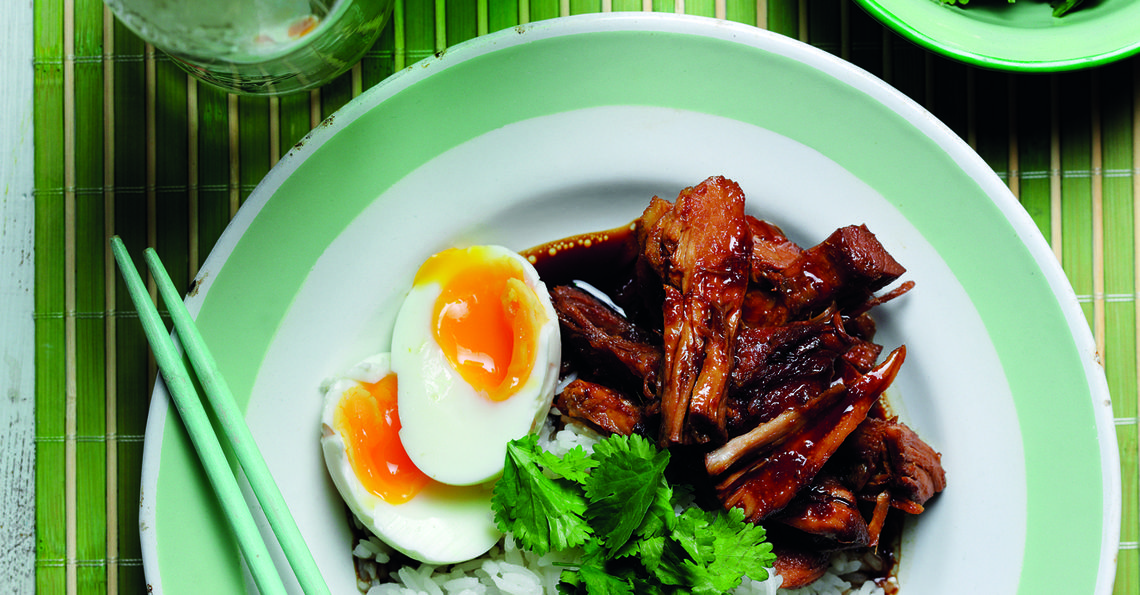 Serves: 6
Prep: 60 mins
Cook: 150 mins
Cook's tips
Cooking the pork slowly stops the meat from getting tough. The idea here is to gently cook the meat without making it go tense from quick heating, the slower the better.
Ingredients
1 Pork shin, around 1.5kg, bone and skin removed
10 garlic cloves
3 tbsp ginger, peeled and roughly chopped
1 tsp ground white pepper
Table salt
A handful of coriander (picked and washed)
2 bay leaves
100ml oyster sauce
200ml sweet soy
2 tbsp brown sugar
100ml fish sauce
1 litre chicken stock
6 medium British Lion eggs
100ml vegetable oil
Method
Firstly blanch the pork shin in simmering water to remove any inequalities within the meat. To do this place the shin in cold, salted water and slowly bring to the boil. Once starting to bubble, simmer the meat until it is cooked throughout without boiling too hard (about one hour).
Next make the paste. In a pestle and mortar add the garlic, ginger and white pepper and pound to a paste, use some coarse sea salt as an abrasive if necessary.
Fry the paste in the oil, moving constantly until it is golden brown. Then add the stock, fish sauce, sugar, sweet soy, sugar, bay leaves and oyster sauce.
Next add the blanched pork shin and leave on a medium heat with a lid on the pot for two to three hours. By this time the meat should fall off the bone and the sauce should be loose but rich in taste, almost like a broth. At this stage add the eggs and soft boil in the sauce for five minutes, then remove and peel the shell.
Serve the pork parlow with rice and some of the sauce topped with coriander and the soft boiled egg on top oozing into the broth.
Click on the stars to rate this recipe: