Wok fried egg and spicy minced pork with garlic & ginger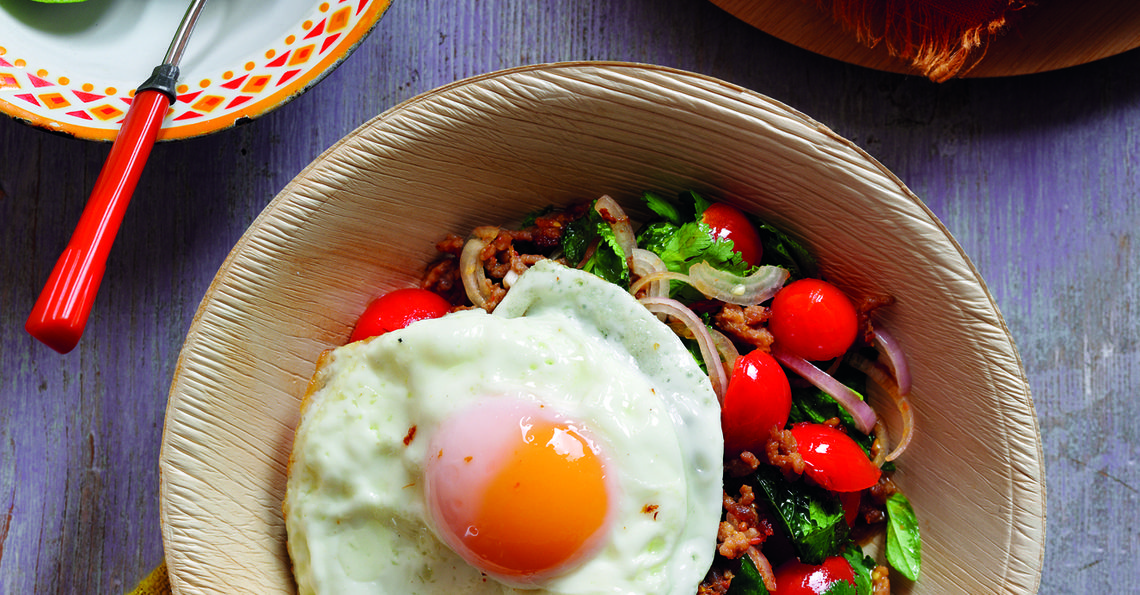 Serves: 2
Prep: 10 mins
Cook: 10 mins
Cook's tips
The best way to set yourself up for cooking this dish is to separate all the prepared ingredients into bowls and place them within arm's length of the stove top for easy access whilst cooking.
The eggs will be cooked first so make sure to crack them into separate bowls for convenience and have a plate with some kitchen roll handy to put them on.
Ingredients
250g minced pork belly
6 garlic cloves, peeled
4 red birds eye chilli, stems removed (use two if you don't like things too spicy)
30g ginger, peeled and roughly chopped
1 tbsp coriander root, chopped (this can be brought attached to the leaves in most good Asian supermarkets, however if you can't find just leave out)
A handful of coriander, washed
A handful of mint, torn in half
Thai shallots, peeled and sliced (banana shallots work well too)
A handful of Thai basil (normal basil can be used instead)
100g cherry tomatoes, mashed a little with hands
Vegetable oil, for frying
2 large British Lion eggs
2 whole limes
A little coarse sea salt
Method
Firstly using a pestle and mortar (or food processor) pound together the bird's eye chilli, garlic and ginger to make a paste; a little coarse sea salt can be added to the mortar to act as an abrasive and help combine the ingredients.
Heat a large wok to a high heat and place around 150-200ml of vegetable oil in it. When the oil is sizzling hot, crack an egg into a bowl and add to the pan by gently pouring it into the hot oil - be careful of splattering oil as it hits the wok.
As soon as the egg touches the oil it will begin to cook very quickly; leave for around ten seconds and then gently unstick from the wok using a wok spoon, being careful not to split the egg yolk. The egg will take around 20/30 seconds to cook. When the egg white is cooked and the yolk is still runny, remove the egg using a slotted wok spoon and place on the draining plate. Repeat this process with the second egg.
Remove most of the oil from the pan then add the ginger, garlic and chilli paste and move constantly until golden brown. In the afterheat of the eggs being fried this will not take long so be careful not to burn the mix.
Add the minced pork belly and continue to fry until the pork is crispy, next add the caster sugar and cook for a further minute until the mixture darkens and caramelises. Then add the coriander, mint, basil, Thai shallots, tomatoes and fish sauce and squeeze one lime into it then toss together.
Immediately serve the pork stir-fry on a plate with the egg on top and a wedge of lime on the side to squeeze over the dish yourself for freshness.
Click on the stars to rate this recipe: