Cherry & chocolate roulade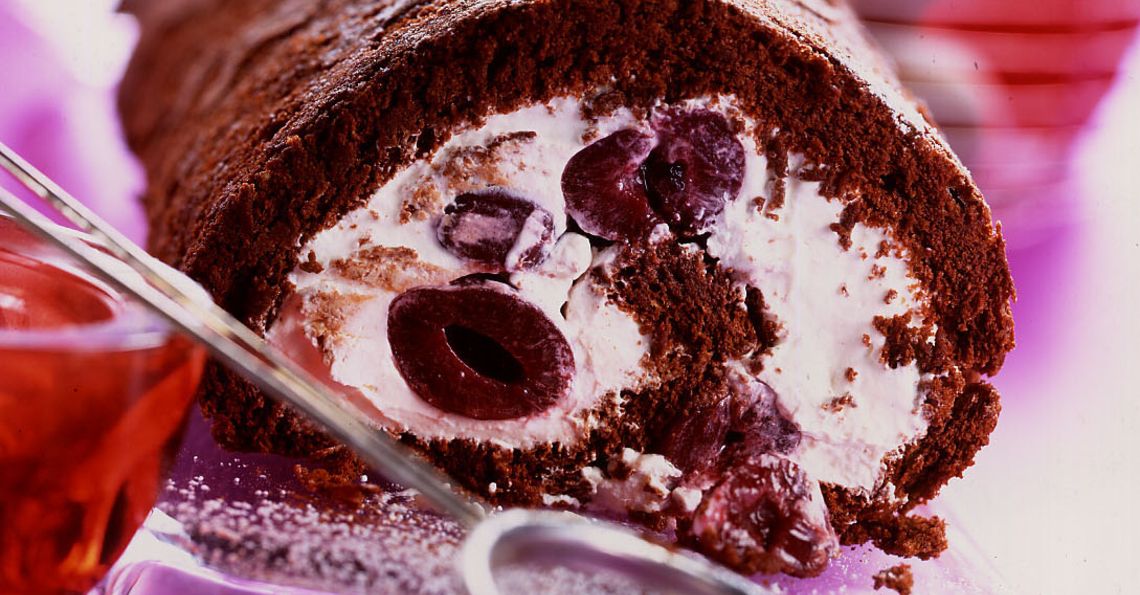 Serves: 8
Prep: 10 mins
Cook: 25 mins
Give the family a special treat. This delicious dessert is sure to impress.
Ingredients
1 (400g) can pitted black cherries in syrup, drained
45ml/3tbsp brandy
5 large British Lion eggs, separated
100g/4oz caster sugar
150g/5oz plain chocolate, melted
300ml/1/2 pt double cream
icing sugar and cocoa powder to dust
Method
Preheat the oven to 180C/Fan 160C/350F/Gas Mark 4. Lightly oil a 33x23cm (13x9in) Swiss roll tin and line with baking parchment. Mix the cherries and brandy together in a small bowl and set aside.
Whisk the egg yolks and sugar together in large bowl until creamy. Stir in the chocolate and 45ml/3tbsp water.
Whisk the egg whites in a clean bowl, until soft peaks form. Stir a large spoonful of egg whites into the chocolate mixture to loosen it, then gently fold in the remainder. Spoon into the prepared tin and level the surface. Bake for 25-30mins or until firm to the touch.
Place a damp teatowel on the work surface and cover with a sheet of baking parchment. turn-out the roulade, face down onto the parchment and peel away the lining paper. Cover with a damp teatowel and leave to cool on a wire rack.
Whip the cream until soft peaks form. Spread the cream over the roulade, scatter over the soaked cherries. Roll up the roulade, starting from a short end, using the paper to help. Dust with icing sugar and cocoa powder and serve in slices.
Click on the stars to rate this recipe: