Chimichurri egg, potato and greens salad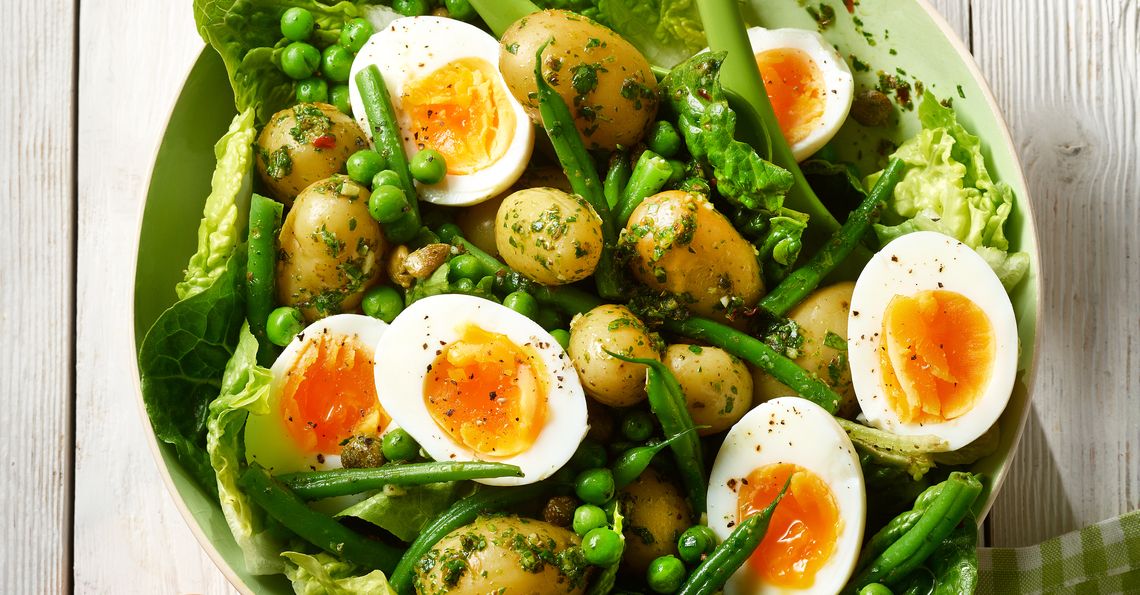 Ingredients
6 medium British Lion quality eggs
500g new potatoes, halved if large
100g green beans, trimmed
100g frozen peas
1 sweet Romaine lettuce, washed and trimmed
3 tbsp capers (optional)
4 tbsp fresh coriander leaves
4 tbsp fresh flat parsley leaves
1 clove garlic
1 tsp dried oregano
1/2 tsp dried chilli flakes
6 tbsp olive oil
2 tbsp red wine vinegar
Salt and ground black pepper
Method
Cook the potatoes in a pan of boiling salted water for 10-15 minutes or until they are just tender. Drain, rinse in cold water then set aside to cool in a large bowl.
Refill the pan with boiling water, add the green beans and boil for 3 mins, then add the peas and bring back to the boil. Drain both, rinse in cold water then leave to drain.
Whilst the vegetables cook, put the eggs in a small pan and cover with cold water. Bring to the boil, then simmer uncovered for 5 minutes - the water needs to be bubbling. 
Drain the eggs, and run them under cold water, tapping the shells as they cool. Once cold enough to handle peel and discard the shells. Cut the eggs in half and leave to cool.
Next make the dressing - place all the ingredients in a large jug and mix with a fork or small whisk until a smooth dressing form. Pour over the potatoes, add the cooked vegetables and capers and mix well.
Arrange the salad leaves in a large salad bowl, heap the vegetables into the centre, then arrange the eggs on top.
Serve chilled.
Click on the stars to rate this recipe: