Crispy egg with a mushroom broth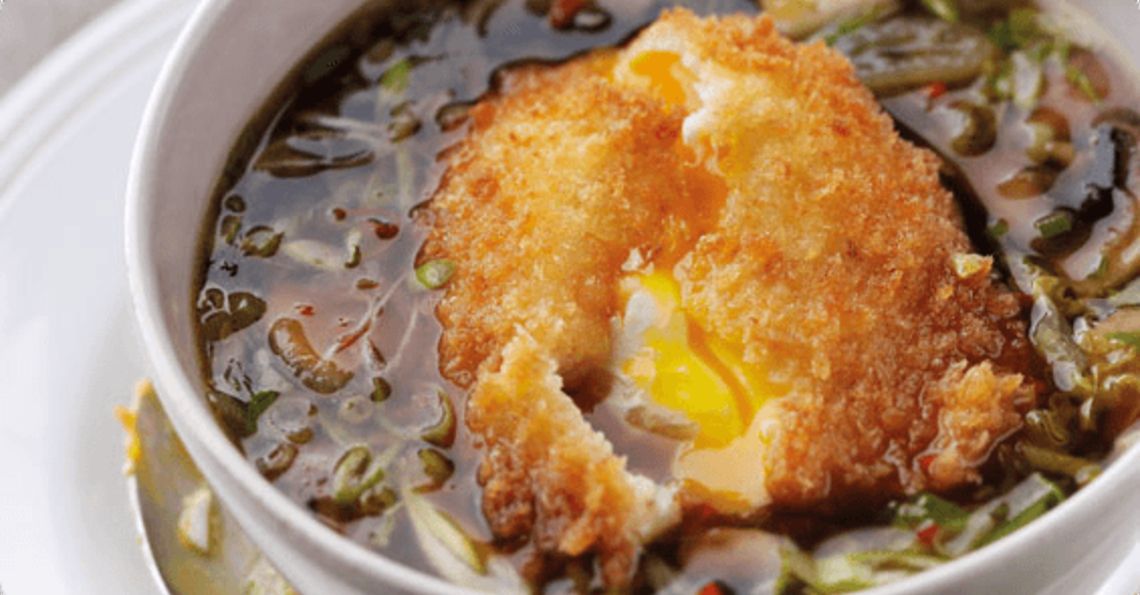 Serves: 4
Prep: 10 mins
Cook: 25 mins
A recipe full of flavour and sure to impress guests.
Ingredients
1 shallot, finely sliced
150g mixed mushrooms, cut into quarters (Shitake, oyster and button)
1 red chilli, finely chopped
1 clove garlic, grated
Small piece fresh ginger, grated
1 lemongrass, finely chopped
1 lime juice
1 tbsp sugar
2 spring onion, chopped
1 gem lettuce, finely sliced
1 tbsp soya sauce
1tsp fish sauce
500ml chicken stock
Crispy egg:
4 British Lion eggs
1 British Lion egg, beaten
50g plain flour
50g breadcrumbs
Oil for deep fat frying
Method
Poach the eggs in a pan of simmering water for 3 mins and place in iced water. Dain and pat dry with kitchen paper. Coat in the flour, then the beaten egg and finally the breadcrumbs. Repeat the egg and breadcrumbs to give the egg a double coating.
Pre-heat the oil to 180˚C in a deep fat fryer.
Pour a little vegetable oil in a pan and sweat the shallots, garlic, chilli, ginger and lemongrass for 5 min. In a separate pan fry the mushrooms until golden, season and add to the shallots. Pour in the chicken stock, sugar, soya sauce, fish sauce and simmer for 10 min.
Add the spring onion, gem lettuce and cook for 2 min, squeeze in the lime juice.
Deep fry the egg for 2 min in a pan or until golden.
Serve straight away in a bowl with the egg on top.
Tip: Visit https://www.eggrecipes.co.uk/ways-to-cook/poached/cooking-tips for tips on poaching
Click on the stars to rate this recipe: