Perfect poached eggs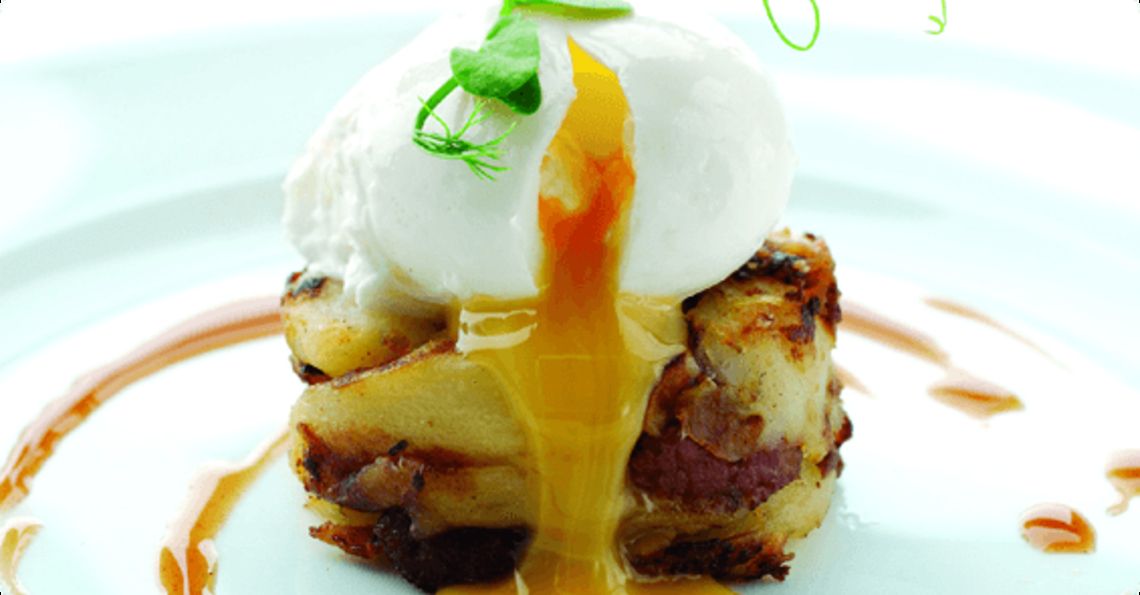 Serves: 4
Prep: 10 mins
Cook: 20 mins
The homemade corned beef hash in this recipe is a great base for your perfect poached eggs to sit on, and dressing the plate with a lightened brown sauce gives this retro dish a stylish restaurant presentation.
Ingredients
2 potatoes peeled
½ an onion diced
10g butter
1/2 tin corned beef cut into small pieces
4 large British Lion eggs
white wine vinegar
3tbsp HP sauce
3tbsp water
Method
Cut the potatoes into a large dice and boil in lightly salted water for about 15 minutes or until tender, drain. In a non stick pan gently fry the onion until soft, add the potatoes and butter, allow to caramelise keep turning them until the mixture looks golden, add the corned beef and cook for a further 3-4 minutes, season with salt and pepper.
To poach the eggs, bring a deep pan of water to the boil (at least 10cm of water) and add 3-4 tbsp of white wine vinegar. Wait until the bubbles are breaking on the surface and tip in each egg and allow to cook for 1 -1 1/2 minutes until the white has formed around the yolk, then cook over a gentle heat until they are just firm enough to pick up on the slotted spoon and place in a bowl of cold water.
If serving straight away allow to cook for a further minute or longer if you prefer them firmer.
To serve, warm the plates and put a cutter into the centre of a plate and fill with the corned beef hash level off the surface and repeat. If you don't have a cutter place the hash in a neat pile. Sit a hot poached egg on top. Mix the HP sauce with the water and spoon around the plate.
Click on the stars to rate this recipe: