Egg and bacon pie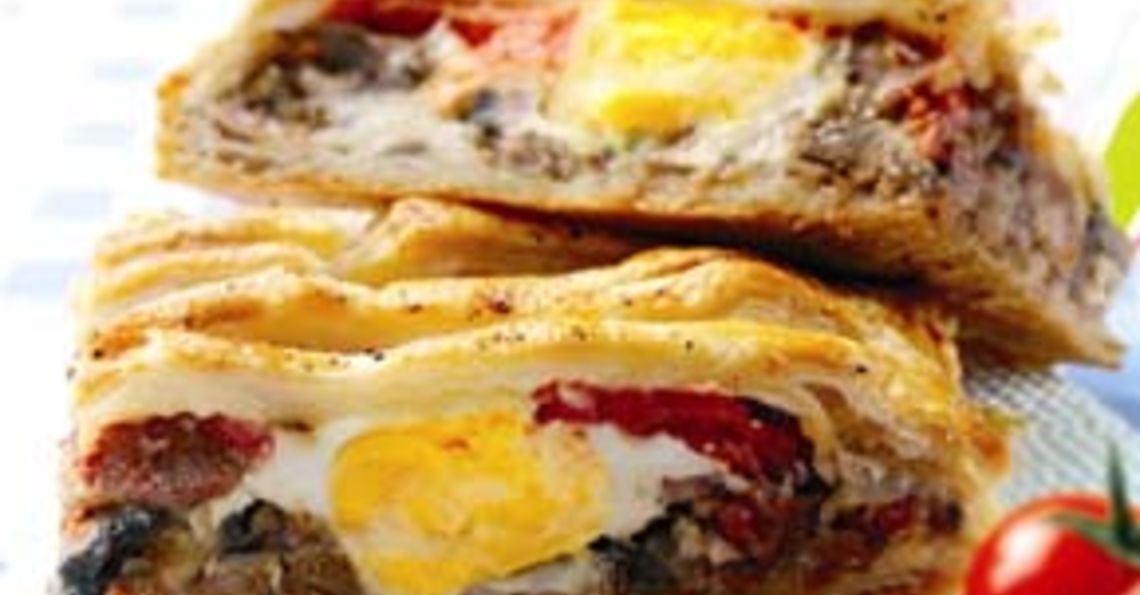 Serves: 8
Prep: 25 mins
Cook: 120 mins
Make your own delicious egg and bacon pie with this simple recipe
Ingredients
450g/1lb plain flour, warmed
5ml/1tsp salt
100g/4oz lard
150ml/¼ pint water
30-45ml/2-3tbsp milk
For the filling:
800g/1¾lb raw chicken, skinned and boned
4 large British Lion eggs, hard-boiled and shelled
2 x 18cm/7 inch large bacon steaks
90ml/6tbsp chicken stock
salt and freshly ground black pepper
1 British Lion egg for glazing
Method
Sieve the flour and salt into a bowl. Place the lard, water and milk into a saucepan and bring to the boil.
Pour the boiling liquid into the flour and stir with a wooden spoon until the dough is cool enough to handle.
Knead on a lightly floured surface until smooth and elastic.
Roll out 2/3 of the pastry (keep the remainder covered and warm) and use to line an 18cm/7inch deep sides, loose bottomed, greased cake tin.
Carefully, push the pastry into the base and sides of the tin with your knuckles. Fill the pie with half the chicken, then with a whole bacon steak. Place the eggs on top.
Finely chop the remaining steak and place around the eggs. Top with remaining chicken and press down firmly. Pour in the stock over the chicken. Roll out the remaining pastry into a round to form the lid. Brush the edges of the pastry, top and lid, with beaten egg. Place lid on top of pie and seal the edges well. Trim off any excess pastry and flute the top edge. Make a small hole in the centre of the pastry and place a clean paper straw or small roll of greaseproof paper into the hole to allow the steam to escape. Roll out the pastry trimmings to make leaves and attach to the pie with beaten egg.
Glaze the top with more beaten egg. Bake in a pre-heated oven at 200C/425F/Gas Mark 7 for 15 minutes then reduce temperature to 180C/350F/Gas Mark 4 for 1¾ hours.
About 15 minutes before the end of the calculated cooking time remove the sides of the tin and brush with any remaining egg. Return to the oven and bake until the sides are brown and crisp. Cool, then chill well before serving cold with salad.
Click on the stars to rate this recipe: