Tom Daley's Mini lemon curd and blueberry tarts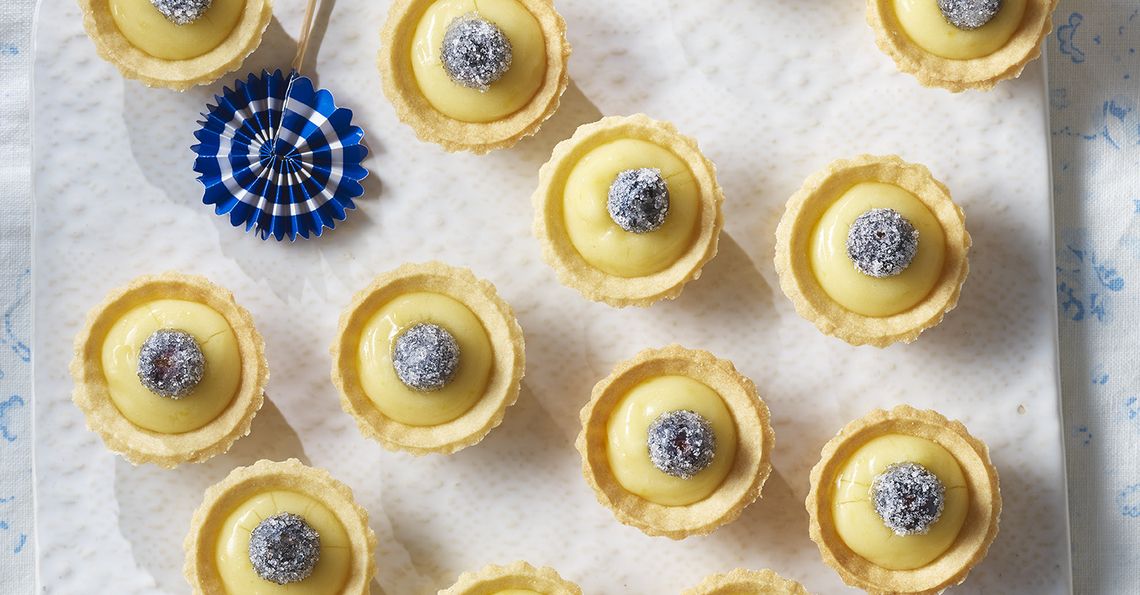 Serves: 15
Prep: 25 mins
Cook: 15 mins
Treat yourself to these tempting mini tarts which are made using ready-made tart cases so they are super-simple to make. Filled with homemade lemon curd and topped with blueberries, they are cleverly frosted by coating in egg white and rolling in sugar. For the curd and frosting, remember to always use British Lion eggs which guarantees they're safe to eat raw, even for vulnerable groups including pregnant women and older people.
Ingredients
3 large British Lion eggs
140g caster sugar
3 unwaxed lemons, juiced (150ml) and zested
75g unsalted butter, diced
30 blueberries
30 mini tart cases
15g unsalted pistachios, very finely chopped, to garnish (optional)
Method
Crack two of the eggs and one egg yolk into a medium, heatproof bowl. Place the remaining egg white into a small bowl.

Add 100g sugar, the lemon juice and zest to the medium bowl and whisk well. Add the butter to the bowl and place the bowl over a pan of simmering water, making sure the bowl doesn't touch the water. Stir the mixture until the butter has melted, around 5 minutes. Continue to cook the mixture, stirring continuously with a whisk until it thickens, around 10-15 minutes.

Remove the bowl from the heat and leave to cool (you can pour it into a wide shallow bowl to speed up this process).

Meanwhile lightly whisk the egg white with a fork. Sprinkle the remaining sugar on a large plate. Dip a few blueberries at a time into the egg white then toss them in the sugar and set aside. Repeat with the remaining blueberries.

Pipe or spoon the curd into the tart cases then top each one with a frosted blueberry. Garnish with pistachios if desired.
Click on the stars to rate this recipe: