Egg and bacon soufflé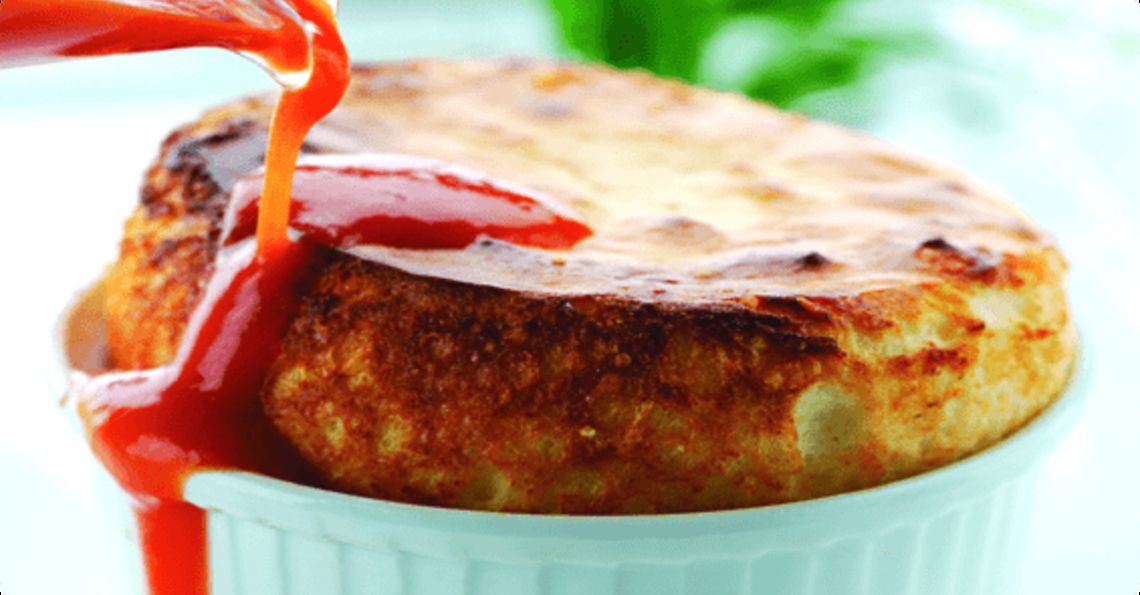 Serves: 4
Prep: 15 mins
Cook: 20 mins
Perfect for an impressive Sunday brunch, a soufflé can be a daunting task for the most accomplished cook, but follow these simple steps and you'll be delighted with the results.
Ingredients
Béchamel – the soufflé base
1 rasher of bacon cut into very small pieces
26g butter
60g flour
400ml milk
1tsp mustard
25g grated parmesan cheese
pinch of cayenne and nutmeg
salt and pepper
6 large British Lion egg yolks
For the moulds:
20g butter to grease the ramekins
50g fine grated gruyere cheese to line the moulds
For the tomato coulis:
1 small onion diced
2 large ripe plum tomatoes (skinned and deseeded)
½ clove garlic, chopped
50g tomato juice
salt/pepper
For the 2nd part of the soufflé:
6 large British Lion egg whites
pinch of salt
1tsp cornflour
Method
Fry the bacon in a medium frying pan until crisp, add the butter, when melted stir in the flour and cook gently for 2-3 minutes then add the milk gradually, stirring until thickened. Cook over a low heat for 5 minutes, then add the egg yolks, mustard and seasonings and cook for 2 more minutes, pour into a mixing bowl and allow to cool. 
For the moulds: Generously butter the edges of the ramekins and then dust the insides with the grated cheese. Place on a oven tray ready to be filled.
For the tomato coulis: In a saucepan gently cook the onion in a little olive oil until soft and add the garlic and then the tomatoes, stir over a gentle heat to reduce the flavours then add the tomato juice and blend with a hand blender.
For the 2nd part of the soufflé: Pre-heat the oven to 180C, using an electric whisk, whisk the egg whites with a pinch of salt and the cornflour until they reach soft peaks. Mix a third of the egg whites into the soufflé base to lighten it and then fold in the remaining whites gently so as not to knock the air out of the mix. Spoon into the ramekins and fill just below the rim. Then using the edge of your thumb run it around the rim of the dishes to prevent the mix sticking.
Place in the oven and bake for 5 minutes or until well risen, serve immediately and pour the tomato coulis into the centre of each soufflé at the table.
Click on the stars to rate this recipe: