Fried egg soup with smoked paprika & ground chilli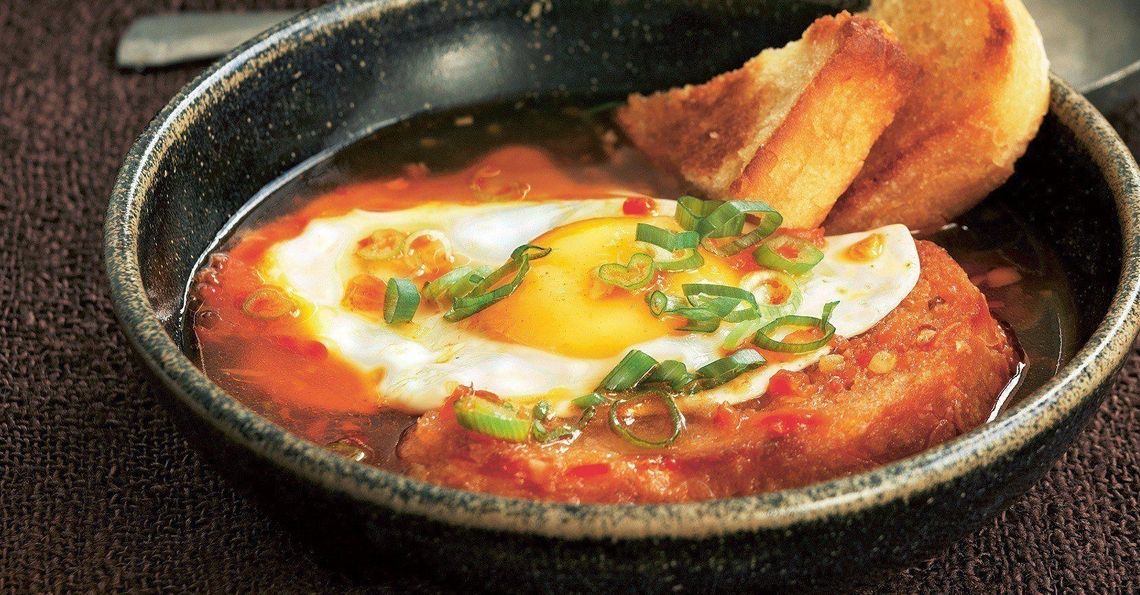 Serves: 4
Prep: 10 mins
Cook: 20 mins
Ingredients
3 tablespoons olive oil
2 garlic cloves, crushed to a paste
2 plum tomatoes, finely diced
1 teaspoon smoked paprika
pinch of salt
½ teaspoon chilli flakes, ground to a powder
700ml chicken stock (homemade would be fantastic, but if you've got a cube in that store cupboard…)
4 slices of bread from a white bloomer
4 free range eggs
3 spring onions, green parts only, thinly sliced
Method
1. Heat 1 tablespoon of the olive oil in large pan and fry the garlic for 1 minute until very slightly browned. Add the tomatoes and simmer for about 2 minutes until softened and much of the juice has reduced. Stir in the paprika, salt and ground chilli flakes. Pour in the stock and bring to a simmer, then leave the soup to cook while you get on with the next bit.
2. Heat another tablespoon of the olive oil in a frying pan and fry the slices of bread on both sides until golden and crispy. Tear them in half and put a half into each serving bowl. The other halves will be served on the side.
3. Add the remaining olive oil to the frying pan ad fry the eggs until slightly under-cooked (they will continue cooking in the hot soup). Put a fried egg into each bowl on top of fried bread, and pour over the hot soup. Sprinkle with the spring onions and serve.
Click on the stars to rate this recipe: