Egg, crispy kale & mushroom rice bowl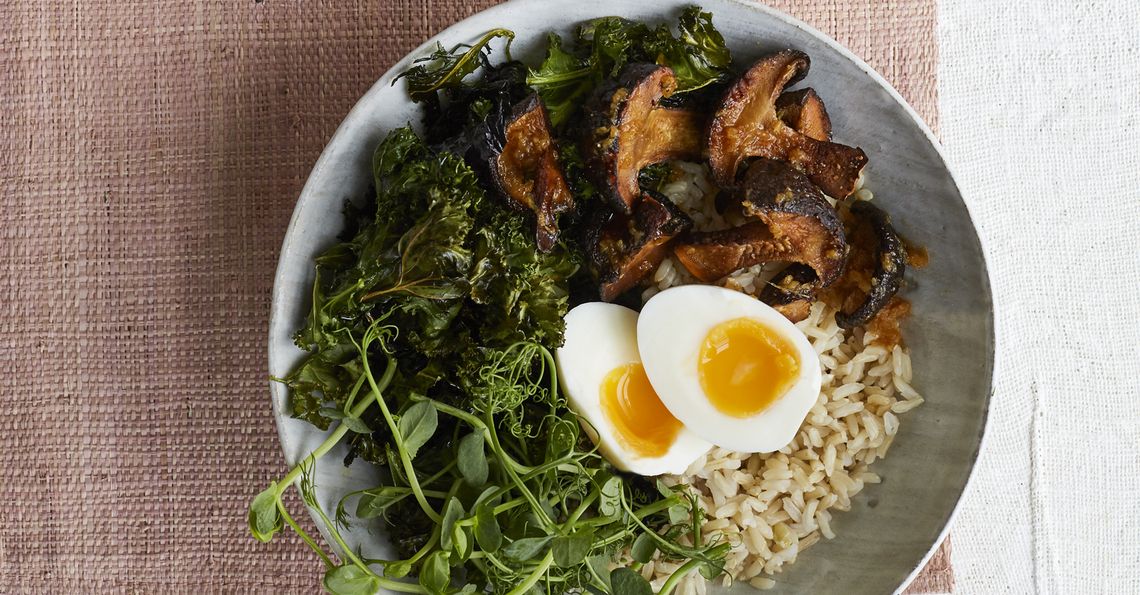 Serves: 2
Prep: 10 mins
Cook: 35 mins
Ingredients
2 large British Lion eggs
150g brown rice
125g shiitake mushrooms, or mushrooms of your choice
½ tsp Chinese 5 spice
Salt
1 tbsp olive oil
60g kale, washed & cut into bite-sized pieces
30g pea shoots or sprouts
Dressing:
4 tbsp soy sauce
2 tsp brown sugar
1 tbsp toasted sesame oil
1 tbsp olive oil
Juice of 1 lime
2 tsp ginger, finely grated
1 clove garlic, crushed
Method
Preheat the oven to 180oC.
In a bowl toss the mushrooms with the Chinese 5 spice, a pinch of salt and half of the oil. Tip out onto a roasting tray and roast for 30 minutes until shrunken.
Using the same bowl, toss together the kale pieces with the remaining oil. Spread out onto the tray with the mushrooms (after they've been roasting for 30 minutes). Return to the oven for 3-5 minutes until the leaves are crispy. Remove from the oven and set aside.
Meanwhile cook the rice: place into a medium pot, cover with boiling water and place over a medium-low heat. Cook for 20 minutes (or according to the pack instructions) then drain and return to the pot. Cover with a lid and set aside for at least 5 minutes to soak up excess moisture.
Bring a small pot of water to the boil then turn the heat down to low. Lower in the eggs and let cook for 5 minutes. Remove the eggs from the water and place into a bowl of cold water until cool enough to handle. Tap the eggs on a surface to crack the shell then carefully peel off, and discard, the shell. Set aside until serving.
Stir together the dressing ingredients in a small bowl.
Divide the rice between two bowls, top with the roasted mushrooms and kale, pea shoots, a halved egg and a few spoonfuls of dressing.
Nutritional information, per serving:

| Calories | Carbs | Protein | Fat | Saturates | Salt |
| --- | --- | --- | --- | --- | --- |
| 545 | 69.3g | 15.9g | 24.9g | 4.6g | 4.4g |
Click on the stars to rate this recipe: