Japanese Rice Bowl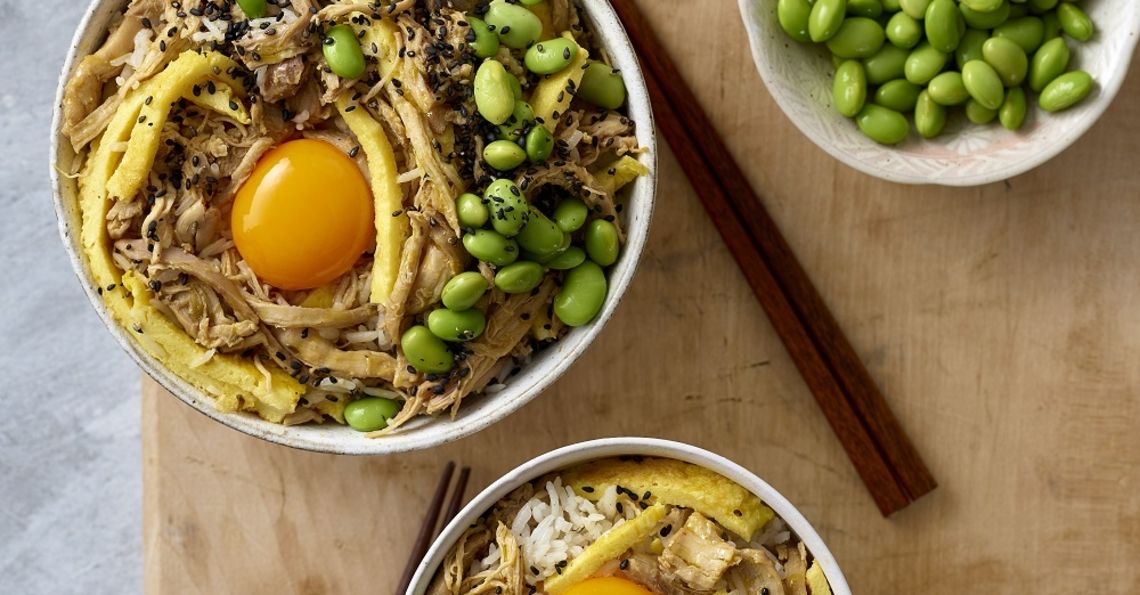 Serves: 4
Prep: 15 mins
Cook: 35 mins
A classic rice and chicken dish with a Japanese twist. Slowly cooked chicken makes it sing!
Ingredients
4 medium British Lion eggs
4 medium British Lion egg yolks
250ml low sodium chicken stock
10g seaweed
1 tbsp soy sauce
1 tbsp rice wine vinegar
½ tbsp mirin
2 garlic cloves, peeled finely chopped
2 tsp sesame oil
6 chicken thighs, skinless
3 spring onions, trimmed finely sliced
300g white rice, cooked
1 tbsp black sesame seeds
100g edamame
Method
Start with preparing the chicken stock. In a medium size saucepan bring the chicken stock and seaweed to a boil, take off the heat and leave aside until needed. 
Make the marinade for the chicken thighs. Combine the soy sauce, rice wine vinegar, mirin and garlic in a big mixing bowl and add the chicken thighs. Leave aside for 10 minutes. 
Whilst the chicken is marinating and chicken stock infusing, heat up 1 teaspoon of the sesame oil in a large, deep frying pan or a sauté pan over a medium heat. Add the spring onions, stir and add a pinch of salt to prevent burning the onions. Cover with a lid and cook for 5 minutes, stirring occasionally. 
Take the lid off and add the chicken thighs (saving the marinade for later). Fry the chicken for about 5 minutes, flipping and making sure it's browned on each side. Finally add the seaweed, stock and the marinade. Lower the heat, put the lid back on and simmer for about 20 minutes, until the chicken is cooked and easily falls off the bone.
Meanwhile, make an omelette. In a small mixing bowl, whisk 4 medium British Lion eggs. Heat up the remaining teaspoon of the sesame oil in a small frying pan over a low heat and pour the eggs in. Stir for couple of seconds, then put a lid on and leave the eggs to set for about 3 minutes. Remove the omelette from the pan, roll it and slice finely. 
Take the lid off and remove the chicken from the pan. Leave the sauce simmering and reducing with the lid off for about 10 minutes.
Carefully pick the chicken meat off the bones and shred with your hands or using two forks, if it's too hot to touch.
Add the shredded chicken back to the reduced sauce, stir and take off the heat when well combined. Taste and season with more soy sauce, if needed. 
Mix the omelette with the cooked rice and spread into 4 bowls. Top each bowl with the shredded chicken, British Lion medium egg yolk, sesame seeds and edamame. 
Cooks tips
You can drizzle some chilli oil over the top, if you fancy an extra bit of spice. 
Click on the stars to rate this recipe: