Pesto, spring greens & egg pasta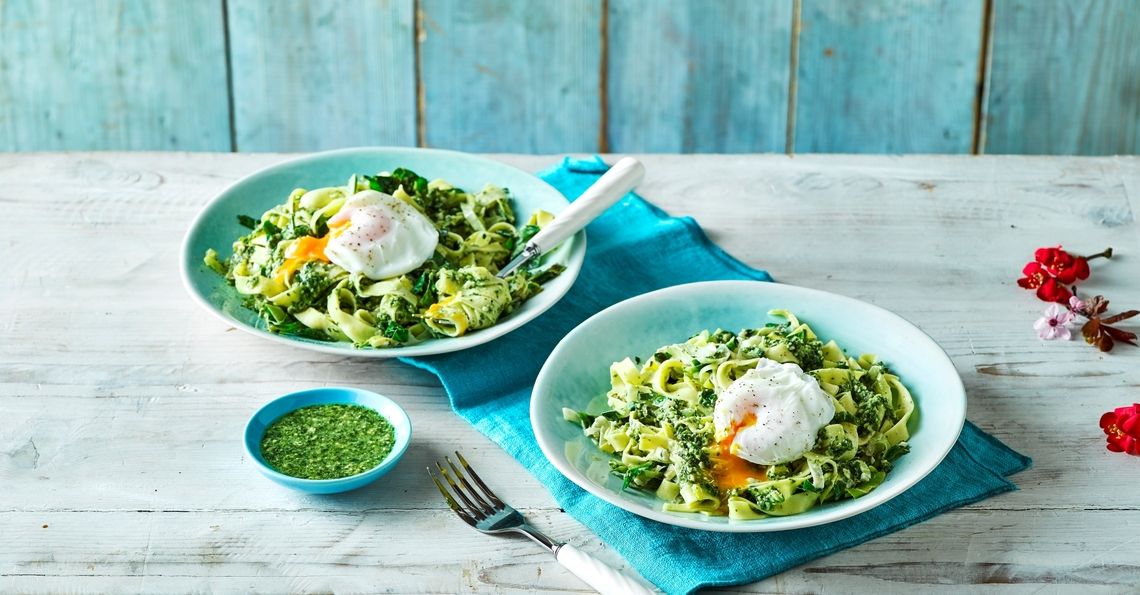 Serves: 4
Prep: 10 mins
Cook: 20 mins
This flavourful pasta dish will be a hit with everyone – plus it's a great (and quick and easy) way to enjoy your veg, fresh or frozen
Ingredients
20g unsalted butter
2 large leeks, finely sliced
2 garlic cloves, crushed
100g spring greens or spinach, finely shredded
2 lemons, zested and juiced
120g crème fraîche
200g fresh pesto
400g fresh tagliatelle pasta
4 British Lion eggs
small bunch of basil, roughly chopped
Method
1.  Bring a pan of water to the boil. Meanwhile, melt the butter in a large saucepan, then add the leeks and fry on a medium heat for about 5-10 mins until softened.
2.  Add the garlic, spring greens or spinach, and lemon zest and juice, then season with salt and freshly ground black pepper. Turn the heat up and add a splash of water, then cook until the greens reduce. Turn the heat down, then stir in the crème fraîche and two thirds of the pesto, then season to taste again and turn off the heat.
3.  Add the fresh pasta to the pan of boiling water and cook for 2-3 mins until al dente. Scoop out the pasta with a slotted spoon, then stir into the crème fraiche mixture along with 100-200ml pasta water (enough to make the sauce to your preferred consistency).
4.  Bring the water back up to a simmer, then swirl to create a whirlpool effect. Crack in 2 eggs at a time. Gently poach for 2-3 mins, then remove with a slotted spoon and rest on kitchen towel. Repeat with the remaining eggs.
5.  Season the pasta to taste, toss the basil through and divide between four serving bowls. Top each bowl with a poached egg and drizzle each with a little of the reserved pesto. Serve immediately.
Click on the stars to rate this recipe: