Egg with Parmesan shell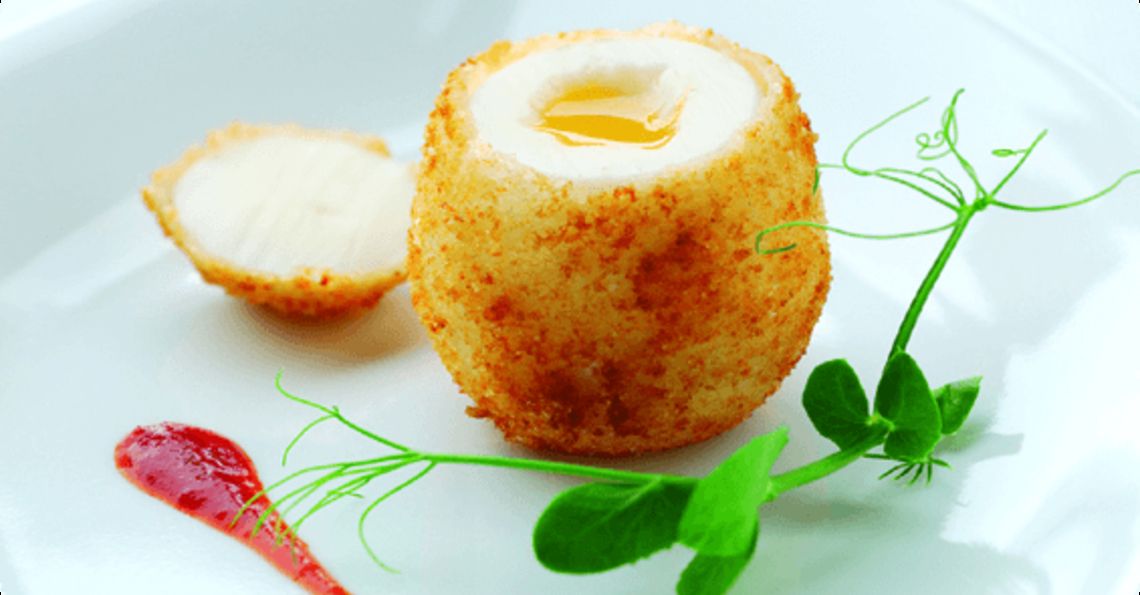 Serves: 4
Prep: 10 mins
Cook: 10 mins
This recipe is quite a challenge but the end result not only tastes great but the concept will amuse the big kid in all of us. The eggs are first boiled for a short time and then gently peeled while they are still quite soft then rolled in flour, egg and parmesan breadcrumbs and then quickly deep-fried to crisp up the egg's new 'parmesan shell'.
Ingredients
1 large British Lion egg per person
small amount of flour (100g)
2 large British Lion eggs beaten with a fork
100g dry breadcrumbs mixed with 40g grated Parmesan
oil for frying
Red pepper essence:
220g jar of roasted peppers
40g sugar
40ml red wine vinegar
60ml water
Or some tomato ketchup
Method
Pre heat a fryer to 180C.
Bring a pan of water to the boil and cook the eggs for 6 minutes, cool in cold running water and then tap the shell gently to break it and carefully peel.
Once you have peeled your eggs, roll them first in the flour, coating them all over, then into the beaten egg mixture and then finely coat in the Parmesan breadcrumbs.
When ready to serve, fry the eggs until they are very golden, drain on kitchen paper, cut a little off the base of each so they stand upright and place on plates, using a spoon pull a blob of red pepper essence or tomato sauce to decorate and enjoy.
Click on the stars to rate this recipe: