Egg pinchos with red pepper salsa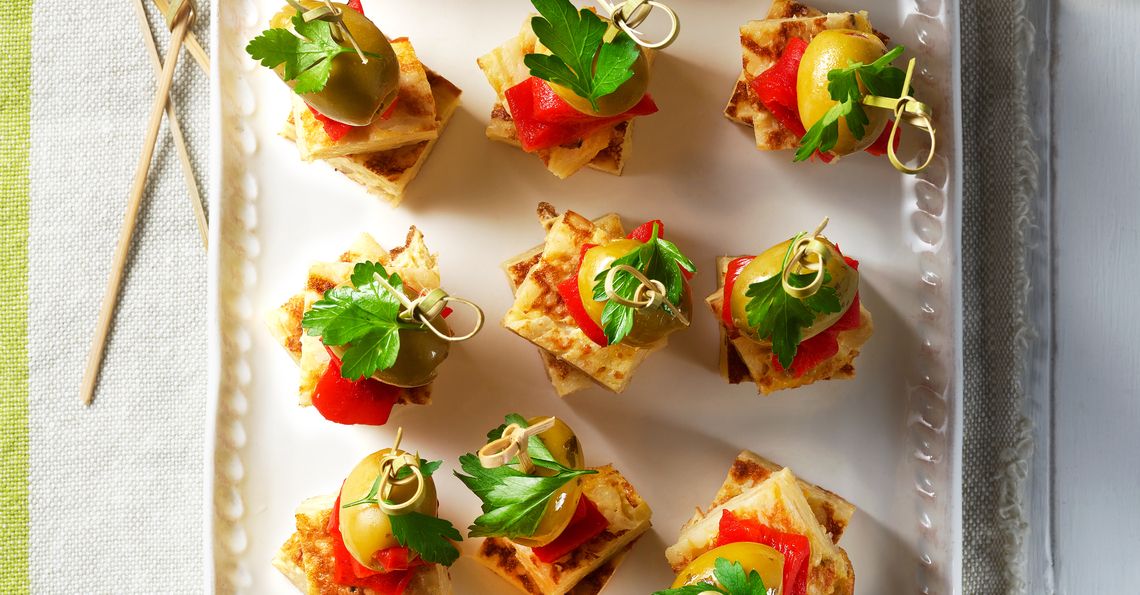 Ingredients
6 tbsp olive oil
1 large onion, chopped
450g potatoes, peeled
1 clove garlic, crushed
Salt and ground black pepper
6 medium British Lion Quality eggs
1 (450g) jar roasted red peppers, drained
1 tbsp red wine vinegar
1 tsp smoked paprika
150g pitted olives - green, black or mix of both
Handful of flat parsley leaves
ocktail sticks
Method
Heat 3 tbsp olive oil in a  non-stick frying pan, add the onion and cook over a medium heat for 3 mins. 
Meanwhile, coarsely grate the potato and place in a sieve, use a spoon to squeeze out the juices then pat dry on kitchen paper.
Add the potatoes and the garlic cloves to the pan and continue to cook over a high heat for 4-5 minutes, stirring regularly until the potatoes are soft and starting to brown.
Beat the eggs with salt and pepper, then pour over the onion and potatoes and stir well. Shake the pan to make and even layer. Return the pan to the heat, cover with a tray or lid and cook for 5-6 minutes. 
Remove the lid and pop the pan under a hot grill and cook for a further 3-4 minutes until the top is set. Leave the omelette to cool completely in the pan.
Whilst it cools, make the salsa: take half the roasted peppers and dry on kitchen paper before cutting into strips.  Place the remaining peppers in a jug add the olive oil, vinegar half the parsley and use a stick blender to make a smooth pepper dip. Season to taste and spoon into a bowl.
Assemble the Pinchos: tip the cold omelette out onto a board and cut it into even sized chunks about 3cm square - it doesn't matter too much if some aren't perfect squares.
Use cocktail sticks to thread up a parsley leaf, olive, strip of pepper and couple of chunks of omelette then place on on a platter - repeat to make about 24. Serve the pinchos with the red pepper salsa.
Click on the stars to rate this recipe: