Egg ricotta and spinach Easter pie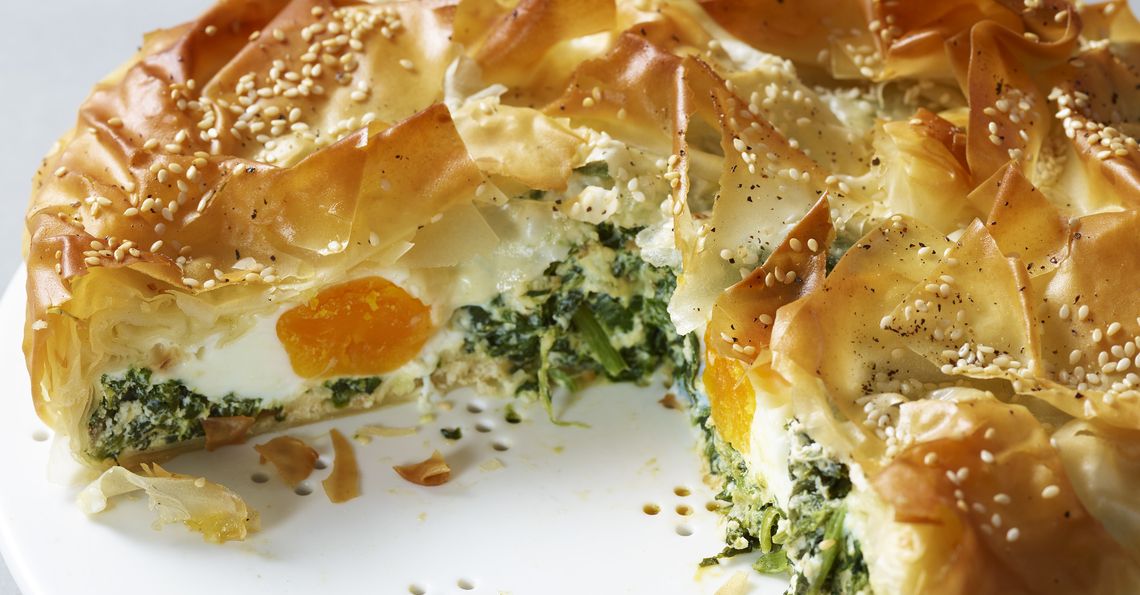 Serves: 8
Prep: 20 mins
Cook: 40 mins
Based on the classic Italian Torta Pasqualina, we've made things easy with crispy filo pastry. You can add extra seasonal veggies to the filling such as peas, broad beans or peppers too.
Ingredients
5 tbsp extra virgin olive oil
1 onion, finely chopped
2 cloves garlic, crushed
600g frozen spinach, thawed
375g ricotta, drained
50g Parmesan, finely grated
6 British Lion eggs
6 sheets filo pastry
50g breadcrumbs
2tsp sesame or poppy seeds
24 cm loose bottomed cake or tart tin, oiled
Method
Heat oven to gas mark 5/190C/170C fan. Heat 1 tbsp oil in a pan, add onion and cook over a medium heat for 5-6 minutes until softened. 
Add the garlic and cook for a further minute, remove from the heat. 
Squeeze out as much moisture as possible from the thawed spinach and roughly chop. Add to the pan and mix in the ricotta, Parmesan, two British Lion eggs and season with lots of pepper. 
Lightly brush each sheet of filo with the remaining oil. Lay each sheet into the oiled tin, giving each sheet a sixth of a turn, leaving the excess pastry overhanging. 
Scatter the base with breadcrumbs and spoon in the spinach filling. 
Make 4 deep indents in the filling, then crack a British Lion egg into each. 
Roughly fold over the excess pastry and gently dab with any remaining oil. Scatter with sesame seeds or poppy seeds. 
Bake for 35 - 40 minutes until cooked through. Cool for 10 minutes, then transfer to a serving plate. 
 
Cooks tips
Work quickly when using filo so the pastry doesn't dry out. Keep sheets covered with damp kitchen roll while they're waiting to be boiled. 
Click on the stars to rate this recipe: