Fruit Scotch Pancakes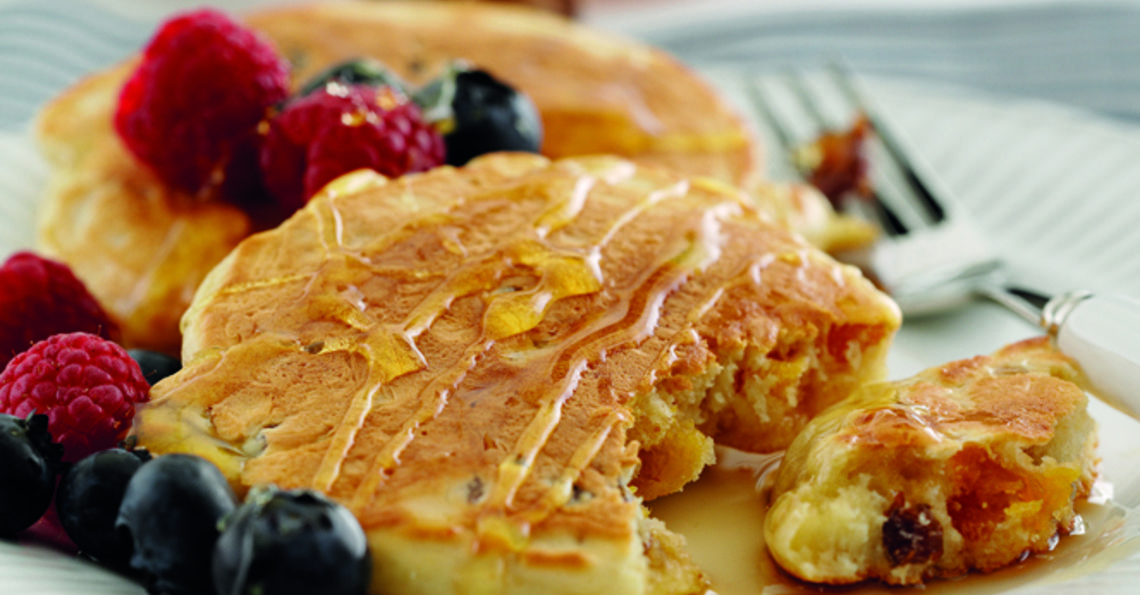 Serves: 4
Prep: 5 mins
Cook: 10 mins
This pancake recipe makes a particularly sustaining meal before exercise due to the addition of two eggs to the batter as well as the dried fruit. The protein in the eggs and the fibre in the fruit reduce the GI of the dish, which results in a sustained rise in blood sugar levels and improved endurance. The fruit also adds good amounts of iron and beta-carotene.
Ingredients
100g/3 ½ oz plain flour
1 tablespoon/15ml sugar
1 teaspoon/5 ml baking powder
2 medium British Lion eggs
75ml semi-skimmed milk
50g/2 oz raisins
50g/ 2oz ready-to-eat dried apricots, chopped
Oil for brushing
Method
Mix together the dry ingredients in a bowl. Add the eggs and a splash of milk and whisk until smooth. Stir in the raisins and apricots.
Heat a large griddle or heavy-based non-stick frying pan and brush it lightly with oil. Drop small spoonfuls of the batter on to the griddle to make 8 – 10 cm rounds and cook for about 2 minutes or until air bubbles start to form on the surface. Turn and cook the other side for 1 – 2 minutes or until golden. You may need to cook in 2 batches. Serve with fresh fruit and honey.
Nutrition (per portion):
For 4 servings: 206 Calories; 7.1g protein; 5g fat; 1g saturated fat; 38g carbohydrate; 19g total sugars; 2g fibre; 0.5g salt
Nutritional information, per serving:

| Calories | Protein | Fat | Saturates | Salt |
| --- | --- | --- | --- | --- |
| 206 | 7.1g | 3.1g | 1.0g | 0.5g |
Click on the stars to rate this recipe: