Israeli potato pancakes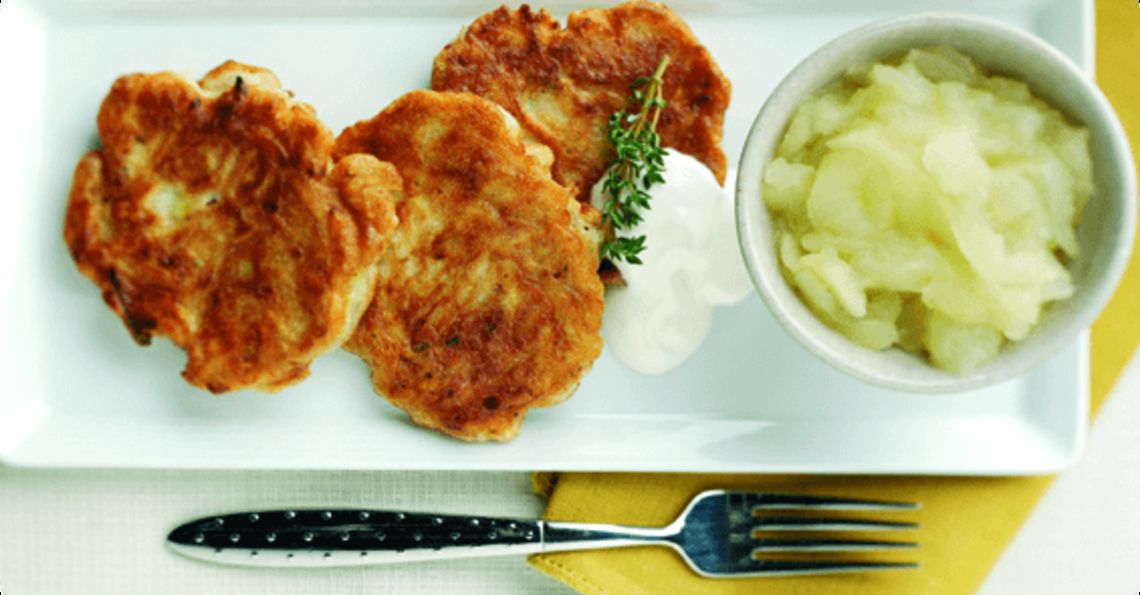 Serves: 12
Prep: 15 mins
Cook: 8 mins
A recipe from around the world, this is a favourite from Israel.
Ingredients
350g/12oz potatoes, peeled
1 onion, peeled
50g/2oz plain flour
1 large British Lion egg, beaten
a pinch of dried or fresh thyme leaves
pinch of salt and ground black pepper
1 large egg white
oil for frying
soured cream and apple sauce to serve
Method
Coarsely grate the potato and onion, then place in a sieve and squeeze out any excess water. Place in a large bowl, add the flour, whole egg, thyme and salt and pepper. Beat well to mix.
Whisk the egg white in a medium bowl until it forms stiff peaks, then fold into the potato mixture.
Heat the oil in a non-stick frying pan, add heaped desserts poonfuls of the mixture to the hot pan, leaving them well apart to allow for spreading. Cook over a medium heat for about 8-10mins, turning them over half way through cooking until they are golden brown and crisp. Don't cook them too hot or the outsides will cook before the centre.
Remove from the pan, drain on kitchen paper and keep warm. Repeat with the remaining mixture to make about 12 patties. Serve warm with soured cream and apple sauce.
Click on the stars to rate this recipe: