Giant Russian blinis with horseradish, mackerel and salmon topping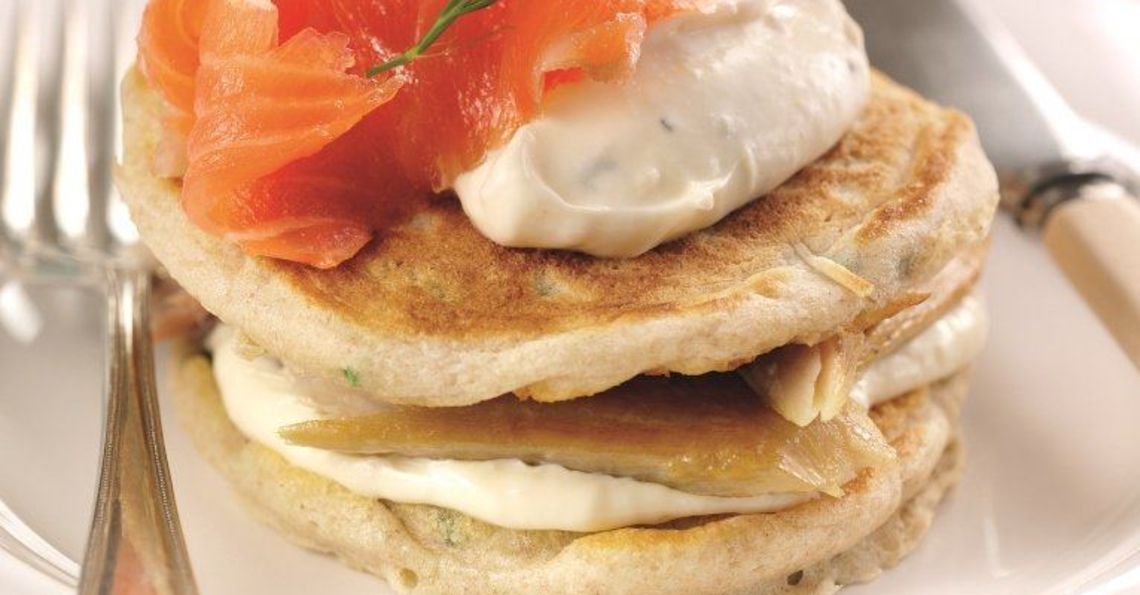 Serves: 4
Prep: 5 mins
Cook: 15 mins
Ingredients
1 British Lion egg, separated
70g buckwheat flour
100g self-raising flour
225ml milk
2 tbsp chives, chopped
Pinch of salt
Vegetable oil for frying
For the topping:
4 tbsp crème fraiche
2 tbsp hot horseradish sauce
2 fillets of smoked mackerel
2 slices of smoked salmon
A few dill fronds
2 tsp salmon roe
Salt and pepper
Method
Make the pancakes by placing the flours in a bowl.  Add egg yolk, salt and milk then whisk together to form a smooth batter.
In a clean bowl, whisk the egg white to stiff peaks, then fold into the batter. Along with the chives. 
Heat a little oil in a frying pan.  Using a tablespoon, drop large spoonfuls of batter into the pan to make round pancakes around 8cm in diameter. Cook for 2-3 minutes on this side until golden brown then flip them over and cook for a further 2 minutes – you will need to do this in batches. 
Once cooked remove from the pan and set to one side.
For the topping, mix together the crème fraiche and horseradish. Season well with pepper.
Remove the skin from the smoked mackerel fillets, then break it up into bite size pieces.
Place a teaspoon of the crème fraiche mix on top of 4 blinis then top with some smoked salmon.
Top with the remaining blinis, then some more of the horseradish mix and some of the smoked mackerel. 
Place a small spoonful of salmon roe and a scattering of dill fronds on top and serve. Season with black pepper and then serve.
Click on the stars to rate this recipe: