Japanese Okonomiyaki Pancakes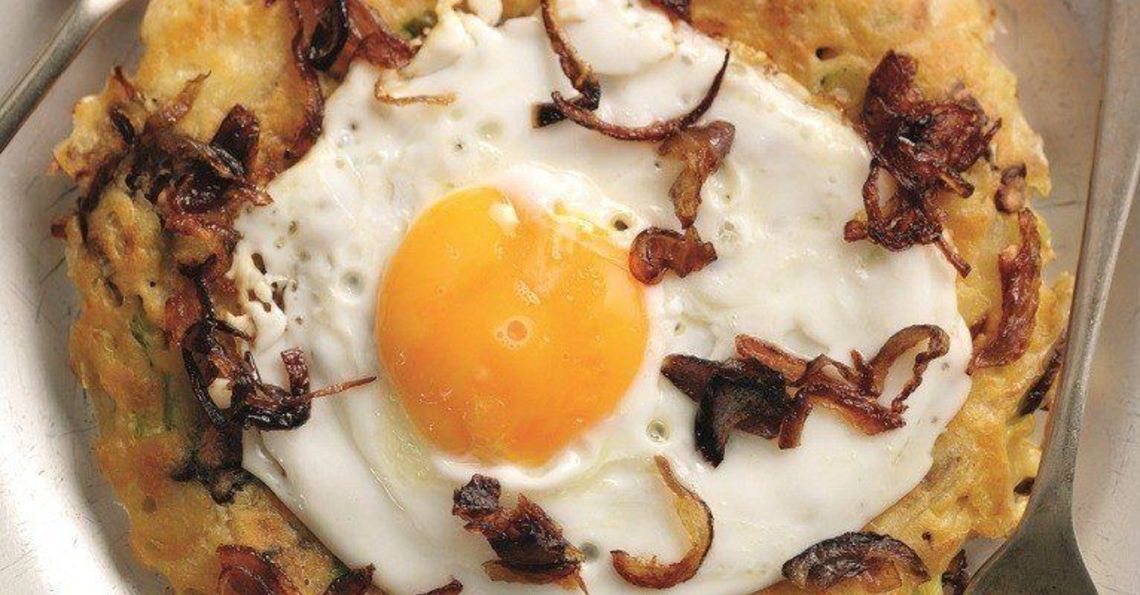 Serves: 1
Prep: 10 mins
Cook: 15 mins
Ingredients
2 British Lion eggs
2 small red onions, finely sliced
2 tbsp vegetable oil
50g plain flour
50ml cold stock
1 tbsp light soy sauce
1 small potato, peeled and grated
2 spring onions, chopped
1 tsp grated ginger
100g Chinese cabbage , finely shredded
To serve:
Okonomiyaki sauce or HP sauce
Mayonnaise
Method
Heat the oil in a frying pan, add the sliced onions then fry gently for 5 minutes until crispy. This is best done slowly so as not to burn them.  Once golden brown and crispy, drain on kitchen paper.
Whisk together the flour and one egg adding in the cold stock and soy to make a smooth batter. Stir the cabbage, potato, spring onions, ginger and ¾ of the crispy onions.
Heat one tablespoon of oil in a frying pan and add the batter.  You want a relatively thin pancake.  Cook for 5 minutes on each side on a medium heat.
Whilst the pancake is cooking fry the egg in a little oil in a large frying pan.
Once the pancake is cooked tip out onto a plate, top with the fried egg and the reserved crispy onions and alongside the sauces ready to serve.
Click on the stars to rate this recipe: